John Simm to star in BBC America drama Intruders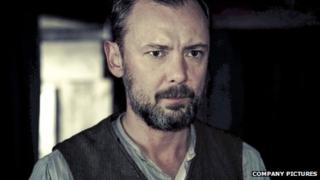 The Village actor John Simm is to star in Intruders, an eight-part series for BBC America, it has been announced.
Based on the 2007 novel by Michael Marshall, it has been described as "a chilling, paranormal drama set in the moody Pacific Northwest".
Simm will play Jack Whelan, a Los Angeles cop turned writer who is forced to confront his dark, violent past when his wife goes missing.
The actor said he "couldn't pass up the chance to play this complex character".
Simm, 43, was seen in 2013 in BBC drama The Village as Derbyshire farmer John Middleton.
He is also known for his starring roles in Sky One's Mad Dogs and Life on Mars and for playing The Master opposite David Tennant in Doctor Who.
Glen Morgan, the series' executive producer and writer, said he was "thrilled" to be working with "one of the UK's most exciting talents" on the programme.
"The BBC has always broken new ground in this genre and I look forward to playing a part in that tradition."
Eduardo Sanchez, co-director of The Blair Witch Project, and The Last Exorcism's Daniel Stamm will share directing duties, with production is due to begin this winter.
British author Michael Marshall Smith writes horror and science-fiction under his full name but drops the Smith when penning contemporary thrillers.