The Hunger Games: Catching Fire passes Iron Man 3 earnings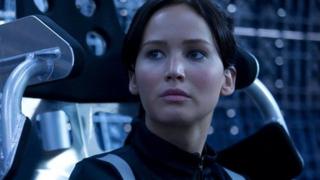 With takings of almost $414 million (£252m), the second film in the Hunger Games series has passed Iron Man 3 to become the most successful 2013 release at the US and Canadian box office.
According to online movie tracker Box Office Mojo, the film has now taken almost $4m (£2.4m) more than Robert Downey Jr's Marvel superhero sequel.
Iron Man 3 remains 2013's biggest draw worldwide, making $1.2bn (£734m).
It was also 2013's biggest earner at the end of last year.
Since then, however, The Hunger Games: Catching Fire has continued to pull in the punters and is now the most profitable film to be released in North America in 2013.
Not since 1968, when Funny Girl was the year's top earner, has a female-led film topped the chart.
Lawrence, who won a Golden Globe on Sunday for American Hustle, plays heroic teenager Katniss Everdeen in the Hunger Games films, based on Suzanne Collins' dystopian sci-fi novels.
The first film in the series, released in 2012, made $408m (£248m). The final part of the story, Mockingjay, has been split into two films that will be released in 2014 and 2015 respectively.
When Catching Fire was released in the UK in November, it topped the box office chart with takings of £12m in its opening weekend.
It has since made almost $847m (£515m) worldwide.
The film was nominated for one Golden Globe at the weekend, for the song Atlas by Coldplay
But the track lost out to U2's Ordinary Love, featured in the biopic Mandela: Long Walk to Freedom.