Space Station orbit to be screened live on Channel 4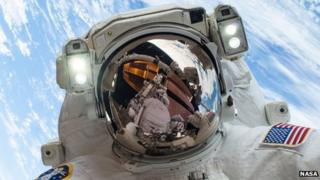 A live broadcast featuring a complete orbit of the International Space Station (ISS) is to be aired later this year, Channel 4 has announced.
The show, hosted by Dermot O'Leary, will link live to the astronauts from mission control in Houston as they make a 90-minute circuit of the Earth.
The ISS, which orbits 250 miles above the Earth, will send back High Definition live images of the planet.
Lap of the Planet screens in March as part of a space season.
It will also feature contributions from Professor Stephen Hawking and British astronaut Tim Peake, who is due to join the crew of the ISS next year.
The set of three shows will also give an insight into life on the Space Station from astronauts Rick Mastracchio and Koichi Wakata, from the effects of gravity on daily tasks and how it affects the body.
Another episode will look at the work done by mission control to support astronauts on the space station, including a treacherous spacewalk to repair the Hubble Space Telescope.
Producers say this will give a realistic view of how trouble in space is tackled, compared to Hollywood movie Gravity, which chronicles disaster high above the Earth.
O'Leary, who has presented talent show The X Factor since 2007, said: "Like most of my Star Wars/Trekkie generation, space has always held a fascination.
"It's already been an education to research this project and so I can't wait to join the viewers in finding out both the spectacular workings of the ISS. I simply can't wait."
David Glover, Channel 4's head of Specialist Factual, said: "To have been granted this access by Nasa to the ISS and Mission Control is a true British TV first.
"We hope to show what life on board is really like, what happens when things go wrong and then finally giving viewers a live lap of planet Earth."
Last year, Canadian astronaut Chris Hadfield came to prominence for singing his version of David Bowie's Space Oddity from on board the ISS.
He also shared photographs of Earth from the craft via Twitter.