Richard Gere joins Best Exotic Marigold Hotel sequel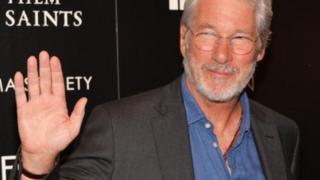 Richard Gere has signed on to appear in The Best Exotic Marigold Hotel 2, it has been announced.
The 64-year-old will appear opposite Dame Judi Dench, Bill Nighy and Dev Patel, who will reprise their roles in the sequel to the surprise hit 2012 film.
It had been rumoured last October that Pretty Woman star Gere had been approached to star in the movie.
Production has begun in India with John Madden returning to direct.
The sequel will see Patel's character Sonny and hotel co-manager Muriel (played by Dame Maggie Smith) continue with their business as Sonny juggles his plans for expansion and an impending marriage.
With the Best Exotic Marigold Hotel for the Elderly and Beautiful thriving, it only has a single remaining vacancy, which poses a problem for new arrivals Guy - played by Gere - and Lavinia - played by Episodes star Tamsin Greig.
"We're thrilled to reunite our creative and delightful Marigold Hotel family along with some intriguing new 'guests'," Claudia Lewis, Fox Searchlight Pictures president of production, said.
"With John Madden's direction and Ol Parker's original screenplay, we look forward to further exploring our characters' rich stories and triumphs."
Madden added: "This film presented us with an irresistible opportunity: to continue a story we realized we had only just begun.
"Not to tell the same story again, but to pursue where the lives of these very different characters lead, with an audience which already holds them in great affection."
The Best Exotic Marigold Hotel earned more than $135m (£82m) at the box office worldwide on a production budget of $10m (£6m).
It was also nominated for a best British film Bafta and best picture Golden Globe, while Dame Judi was also recognised for her role in as hotel resident Evelyn.