Wolf of Wall Street stars defend scenes of excess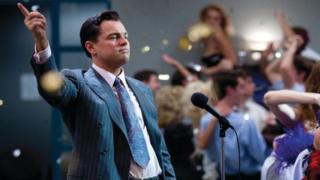 The stars of the new Martin Scorsese film The Wolf of Wall Street have defended the film's depiction of sex and drug-taking.
"I don't think it glamorises it - it gives an uncensored realistic version of true events," said actress Margot Robbie, who plays the wife of the main character played by Leonardo DiCaprio.
The Oscar-nominated actor stars as stockbroker Jordan Belfort in Scorsese's tale about his real-life rise and fall in the financial world of 1980s-90s New York.
The film, which opens in the UK on 17 January, has its UK premiere in London's Leicester Square on Thursday.
But the film has attracted criticism in the US by some who suggest it glamorises excess and immorality.
There are reports that one unidentified Academy member heckled Scorsese at a pre-Christmas screening with the words: "Shame on you!"
The film also contains more than 500 uses of the F-word in its almost three-hour running time.
"It's a story of extremes," former Neighbours star Robbie told the BBC News website.
"To downplay those things would defeat the entire story. You can't do a story about addicts and not really show how enticing drugs and sex were for this person.
"The audience wouldn't understand why this person got sucked into those things if you couldn't show them how fun it could be to do drugs and have sex with hookers and make it look awesome - at least for the first half of the film.
"It was important to have the second half of the film where you show the drastic ramifications of those actions, so that you can show people that we obviously don't condone that behaviour."
The real Belfort made millions of dollars through his brokerage company in the 1990s but ended up in prison after the FBI arrested him for fraud.
The film is based on the book he wrote about his experiences. DiCaprio has described the story as being "like a modern-day Caligula".
He told Variety recently: "This film may be misunderstood by some; I hope people understand we're not condoning this behaviour, that we're indicting it."
Jonah Hill, who plays Belfort's loyal right-hand man Donnie Azoff, told the BBC before Thursday night's premiere that Scorsese made films that got people talking.
"That's what great art does - it creates conversation," he said. "You have to take your own lesson from it, he displays how these people lived truthfully.
"I don't think they were penalised very harshly by the American judicial system and maybe that says something about how white collar criminals are punished in America."
The Wolf of Wall Street, which also stars Matthew McConaughey and Joanna Lumley, scored four Bafta nominations this week, including Scorsese for best director and DiCaprio for the leading actor award.