Zoe Saldana to star in Rosemary's Baby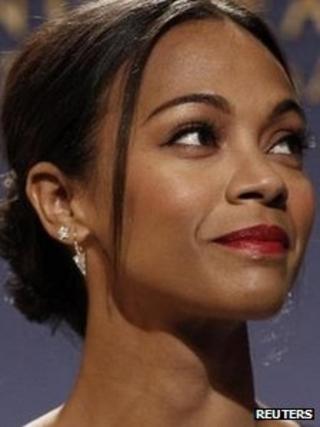 Avatar actress Zoe Saldana will play the lead in NBC's forthcoming mini-series of Rosemary's Baby.
Saldana, who starred in 2013's Star Trek Into Darkness, will play the young pregnant wife who becomes convinced she is the target of a satanic cult.
Mia Farrow famously played the role in Roman Polanski's 1968 film.
NBC's Quinn Taylor called Saldana "one of our most gifted actresses" adding that she had "the perfect combination of spirit and gravitas" for the role.
Based on Ira Levin's 1967's horror novel, the four-part drama will be directed by Oscar-nominated Polish director Agnieszka Holland, who has worked on The Wire and The Killing.
"With Zoe leading the cast under the direction of Agnieszka Holland, this re-imagined event mini-series is off to a great start," added Taylor.
Saldana recently completed shooting the lead role in the forthcoming Nina Simone biopic, Nina.
The decision to cast her was criticised by singer Aretha Franklin and Simone's daughter who claimed she did not sufficiently resemble the star, who died in 2003.
The biopic is due out later this year.