William Roache free to rebuild career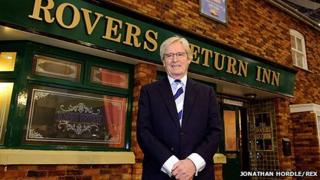 Coronation Street actor William Roache, one of the best-known stars on British TV for more than 50 years, has been found not guilty of raping and assaulting teenage girls and young women in the 1960s and early '70s.
The verdict is a vindication for Roache, who has been a presence on British TV screens since appearing as Ken Barlow in the first episode of Coronation Street on 9 December 1960.
He is the only cast member to have remained on the show since its beginning and holds the Guinness World Record for the world's longest-serving soap opera actor.
The off-screen difficulties Roache has faced during his life would not seem out of place in a Coronation Street plot.
Born in Derbyshire in April 1932, he was called up for National Service aged 19 and spent five years in the Army, serving in Kingston, Jamaica, and what is now the United Arab Emirates.
Setting his sights on an acting career upon his return to the UK, he won minor film and television roles and honed his acting skills in theatre repertory companies in Clacton-on-Sea, Nottingham and Oldham.
It was while acting in Oldham that Granada TV asked him to appear in a new 13-week drama serial.
That serial was Coronation Street. It proved so popular that the initial 13 weeks were extended and the show has been going ever since.
Roache was cast as Ken Barlow, an idealistic university student. As the show gained popularity, the actor and his fellow cast members became some of Britain's most famous faces.
Off screen, Roache married actress Anna Cropper, with whom he had worked in Nottingham and Oldham, in 1961. The couple had two children, Linus and Vanya.
But as the 1960s went on he began drinking heavily and, as he wrote in his 1993 autobiography Ken and Me, had "a lot of affairs with some very attractive and well-known women, and with some not so attractive and not so well-known women".
He later admitted he had slept with up to 1,000 women during that time. One of them was his co-star Pat Phoenix, who played Elsie Tanner.
He told the court he had "plenty" of partners but that "it has to be with their full co-operation and full enjoyment". "Youngsters have no attraction to me at all," he added.
He has previously said he was "physically and mentally" unfulfilled at the start of the 1970s and was wondering whether to quit the Street.
He turned his life around after a friend introduced him to a homeopathic doctor named Dr Thomas Maugham, whom Roache described as the leader of the Druid Order and referred to as "The Master".
"Meeting him quite literally changed my life," Roache wrote in his 2010 autobiography 50 Years on the Street.
That meeting sparked a spiritual awakening. "I belong to no religion, philosophy or group," Roache wrote in his 2007 book Soul on the Street. "But [I] would call myself a seeker for the truth."
Meanwhile, Ken Barlow was going through a series of trials and tribulations as one of the key figures on Coronation Street.
The character's first wife Val, played by Anne Reid, was electrocuted in 1971 and he remarried two years later to Janet Reid (Judith Taylor). In 1981, 21 million people tuned in to watch Ken marry his third wife, Deirdre Langton (Anne Kirkbride).
The love triangle between Deirdre, Ken and his long-time adversary Mike Baldwin (Johnny Briggs) in 1983 was one of the soap's most memorable storylines.
In real life Roache divorced Anna Cropper in 1974 after meeting model Sara Mottram, whom he went on to marry in 1978.
The couple had three children but suffered tragedy in 1984 when their 18-month-old daughter Edwina died suddenly at their Cheshire home of acute bronchial pneumonia.
Another low point came in 1990 when The Sun newspaper published an article claiming that the star was hated by the rest of the Coronation Street cast, that he was treated as a joke by the writers and that Roache was as boring and smug as his character.
He sued the paper for libel and the case went to the High Court in London in 1991. Roache won but ended up having to pay almost £1m in costs.
That left him in a "financially ruinous situation" with little option but to declare bankruptcy. He also said he was "physically on the verge of a breakdown" and ended up in hospital with an ulcer.
He later said he regretted taking the paper to court. "It was my ego speaking," he said.
While Ken Barlow continued to go through the ups and downs that are the lot of a fictional soap character, Roache rebuilt his life after the court case with the help of his beloved Sara.
But in February 2009, she died at their home as a result of sudden heart failure at the age of 58.
Roache had by then spent many years on his quest for spiritual truth.
He is a believer in reincarnation and has said he believes everyone is immortal, that souls keep being reincarnated after death and that mankind's true home is in the "spiritual realm".
He rationalised his daughter Edwina's death by saying she "decided to incarnate for just a short while".
And he took comfort from a medium who claimed in 2000 that Edwina was well and happy and working as a nurse "on the other side". Roache wrote: "I had absolutely no doubt about the validity of this message."
His unconventional spiritual beliefs have attracted scepticism and scorn.
He admitted using a psychic to allow him to communicate with his dogs, claimed people would soon be able to communicate telepathically and that earthquakes, hurricanes, floods and tsunamis would cleanse the earth and usher in a new golden age.
He also suggested last year that sex abuse victims were paying the price for their behaviour in "previous lives".
That interview prompted one of the women who claimed the star assaulted her in the 1960s to go to the police.
But Roache told the trial the interview had been "misunderstood".
The jury found in his favour, meaning he is free to rebuild his career and return to Coronation Street for his 54th year on the cobbles.