Curious Incident play changes venue after ceiling collapse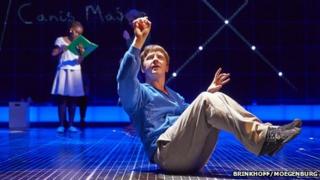 West End play The Curious Incident of the Dog in the Night-Time is to move to a new venue after the Apollo Theatre ceiling collapse on 19 December that led to a month of cancelled shows.
The award-winning adaptation of Mark Haddon's novel will resume its run at the nearby Gielgud Theatre on 24 June.
More than 200 extra seats will be available for every performance, as the Gielgud has a larger auditorium.
Existing ticket-holders will be offered a refund or a transferred booking.
The Apollo, an historic central London theatre which opened 113 years ago, is currently closed for restoration work.
"We are grateful to Delfont Mackintosh Theatres for providing us with another home on Shaftesbury Avenue for the show," said Nick Starr, executive director of the National Theatre, which first produced the play.
While it would be "a real wrench" to leave the Apollo, he went on, "sadly the closure of the gallery to enable its restoration means that the show no longer works economically there".
Nica Burns, whose Nimax Theatres company owns the Apollo, said she was "sorry to lose such a wonderful production" and that she wished it well.
The Curious Incident of the Dog in the Night-Time was first staged at the National in 2012 and will have its Broadway premiere in October.
During the lay-off, the National said it would will offer free performances of the play for schools and young people in a "rehearsal room" format.
Nearly 80 people were injured when plasterwork from the Apollo's ornate ceiling fell about 40 minutes into the 19 December performance.
The Gielgud, one of two theatres directly adjacent to the Apollo, is currently presenting a stage version of Strangers on a Train that runs until 22 February.
It will be followed by a revival of Noel Coward's Blithe Spirit starring Dame Angela Lansbury that runs from 1 March to 7 June.