Tablets top iPlayer statistics for the first time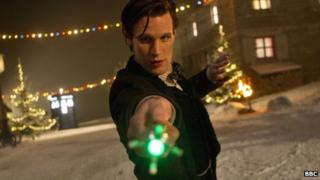 More people accessed the BBC iPlayer on tablets than computers for the first time on Boxing Day, after thousands unwrapped new devices for Christmas.
Doctor Who was the most popular festive programme, followed by EastEnders.
Meanwhile, New Year's Day proved iPlayer's most popular to date, with nearly 11 million requests for programmes - up from 8.1m in 2013.
The BBC's iPlayer boss, Dan Taylor, revealed the figures in a blog post, calling 2013 "the year of the tablet".
Over the festive period, there were 1.96 million requests for Doctor Who's Christmas special The Time of the Doctor, in which Peter Capaldi arrived to succeed Matt Smith.
Other top performing programmes included Christmas specials from Mrs Brown's Boys (1.36 million) and Call the Midwife (1.02 million), David Walliams' Gangsta Granny (1 million) and Still Open All Hours (842,000).
After reaching 20 million downloads in October 2013, the BBC iPlayer app was downloaded nearly one million times (941,000) between 21 December and 1 January, enabling people to access the BBC's online catch-up service from their tablet or smartphone.
The "record-breaking" Christmas period saw a total of 102 million requests - 80 million for TV and 22 million for radio programmes, Taylor said.
"Christmas Day TV is all about families gathering around the biggest screen of the house and most viewing on the day is via broadcast TV," he added.
"BBC iPlayer has an important role as a complementary platform for BBC broadcast programmes, especially on Boxing Day and New Year's Day, when requests on iPlayer really start to peak and you have time to catch up on the must-watch Christmas programmes."
The busy football schedule also made it a record-breaking period for BBC Sport, which attracted 3 million people on Boxing Day, quickly breaking that record on New Year's Day with 3.1 million.
Mobile and tablet devices accounted for a record 72% of BBC Sport's traffic on Boxing day.