Weisz and Craig play 'makes $17.5m' on Broadway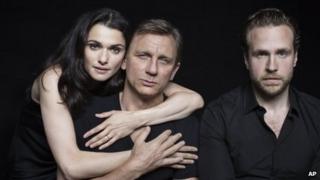 A Broadway revival of Harold Pinter's play Betrayal starring Rachel Weisz and Daniel Craig has taken $17.5m (£10.6m) in just 14 weeks, reports have said.
The play, which opened on 1 October, received mixed reviews from critics but audiences flocked to see the married actors live on stage.
Top price tickets for the show, which closed on 5 January, went for between $275 (£167) and $499 (£304).
It was 2013's second biggest Broadway hit, according to Hollywood Reporter.
The biggest was the late Nora Ephron's play, Lucky Guy, starring Tom Hanks, which grossed just under $23m (£14m) - it also had a limited run but played for four weeks longer than Betrayal in a theatre that had 160 more seats.
The Ethel Barrymore theatre, where Betrayal ran, had 1,096 seats.
Directed by multiple Tony award winner Mike Nichols, the play, about a wife who has an affair with her husband's best friend, also starred Rafe Spall.
Secret agent
Over the Christmas holiday period, Betrayal set a new record for the highest-grossing non-musical in a single week in Broadway history, earning $1.44m (£0.8m) for the week ending 29 December.
When the play opened, tickets were reportedly changing hands for thousands of dollars on the black market.
Steven Spielberg and Bruce Springsteen were among those watching on the opening night.
Pinter's 1978 play was inspired by the playwright's extramarital affair with BBC television presenter Joan Bakewell.
Oscar-winning actress Rachel Weisz married James Bond star Craig in 2011.
Craig is the sixth actor to play the coveted secret agent role,
Weisz won best supporting actress at the Academy Awards in 2006, for The Constant Gardener.