The Voice: Kylie Minogue 'happy' as sole female coach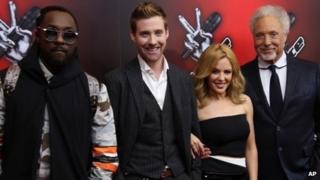 Kylie Minogue says she is "more than happy" being the only female coach on The Voice, as it prevents the press from fabricating "bitchy" rivalries.
The 45-year-old has replaced Jessie J on BBC One show, where she is joined by male stars will.i.am, Sir Tom Jones, and Kaiser Chiefs singer Ricky Wilson.
"I think it works really well, just because it stops there being any stories about bitchiness, cattiness or any kind of competition," she said.
The talent show returns on Saturday.
The first episode sees the return of the blind auditions - where the coaches hear, but cannot see, potential contestants, then must "pitch" to become their mentors.
In one instance, Minogue insists she is the best choice because she can "offer a female perspective in a man's world".
Speaking at the series launch in London, the Australian singer said she was comfortable with the gender imbalance on the coaching panel.
"I hope that I'm giving a voice to the girls and the women who look up to me - or anyone like me in the business. Maybe it is proportionate to what it is in the industry," she said.
"Maybe it would be interesting to flip it up another season and have three women and one guy," she added.
Both the UK and US versions of The Voice have always maintained a coaching panel of three men and one woman, compared to other rivals such as The X Factor and Britain's Got Talent, which have an even gender balance.
Minogue's sister Dannii, who was a judge on The X Factor for four series, was the subject of much newspaper and magazine gossip alleging disagreements with fellow judges Sharon Osbourne and Cheryl Cole.
"It's fair to say our coaches are chosen for their musical credentials first and foremost," Mark Linsey, BBC controller of entertainment commissioning, said.
"With this four, we're lucky to certainly have those in bucket loads and have a range of musical ability."
Minogue said Dannii had given her some advice before joining The Voice - "although she didn't have to say too much because I've had the experience of her experience".
"She thought I would enjoy the experience of being a mentor and she was right."