Cuckoo's Nest producer Saul Zaentz dies aged 92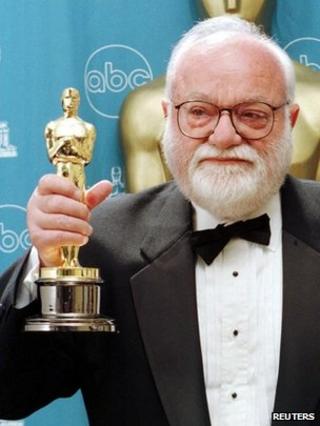 Film producer Saul Zaentz, who won best picture Oscars for One Flew Over The Cuckoo's Nest, Amadeus and The English Patient, has died aged 92.
A Hollywood heavyweight, Zaentz only entered the movie business in his 50s, having already made a fortune in the music industry.
Most of his films were based on literary properties, and he held the rights to JRR Tolkien's novels.
Zaentz died at his San Francisco home of complications from Alzheimer's.
"He was an amazing man," said his nephew Paul Zaentz, who is also a film producer.
"He always taught me to only make films I am passionate about."
Music career
Zaentz was born in Passaic, New Jersey in 1921 and later joined the US Army, where he served in Europe and the Pacific during World War Two.
After military service, he briefly tried his hand as a chicken farmer, before moving to San Francisco to study business.
He was hired as a salesman by jazz label Fantasy Records in 1955 and, 12 years later, acquired the company from its founders.
In a departure from its usual roster - which included Dave Brubeck and the poet Allen Ginsberg - Zaentz signed rock group Credence Clearwater Revival, who went on to make the label millions.
That allowed him to acquire a number of other jazz labels, giving him access to a catalogue that included important recordings by John Coltrane, Miles Davis, Thelonious Monk and many others.
However, he eventually fell out with Credence Clearwater Revival's frontman John Fogerty, with the pair trading insults and legal cases for years to come.
Fogerty's songs Mr Greed and Zanz Kant Danz ("but he'll steal your money") and are thinly-veiled attacks on his former boss, and Zaentz sued over the lyrics to the latter.
"The way I view Saul Zaentz and his henchmen..." said Fogerty said in a 2005 New York Times interview, "if I was walking down the street and those rattlesnakes were walking towards me, I would give them a wide berth".
He became involved in film when he bought the rights to two novels, Ken Kesey's One Flew Over the Cuckoo's Nest and Peter Matthiessen's At Play In The Fields Of The Lord, in 1968.
But his first project to make it into production was an original script, Payday, starring Rip Torn as a country singer.
The low-budget drama (it was reportedly filmed for less than $1m) is barely remembered today, but remained one of Zaentz's favourite films.
He struck gold with the 1972 adaptation of One Flew Over The Cuckoo's Nest, which he co-produced with Michael Douglas.
Like many of his films, it was based a novel that Hollywood had deemed too intricate or difficult to produce.
Shot for $4.4m (£2.7m), the producer persuaded Nicholson to forgo his salary, taking a percentage of the profits instead.
It was a smart move - the film made $120m (£73m) and won the "big five" Oscars (for director, screenplay, actor, actress and film), as well as six Baftas and six Golden Globes.
Among Zaentz's other films were the 1978 animated version of The Lord of the Rings and 1986 Harrison Ford drama The Mosquito Coast.
Amadeus, adapted from Peter Shaffer's play, whimsically examined the relationship between Mozart and rival composer Antonio Salieri.
Filmed, like One Flew Over The Cuckoo's Nest, by Czech director Milos Forman, it won eight Oscars, including best director and best actor for F Murray Abraham as Salieri.
Zaentz topped that with The English Patient, which won nine Oscars, including best supporting actress for Juliette Binoche.
On the same night, Zaentz also received the Irving G Thalberg Award, a lifetime-achievement honour for producers.
"My cup is full," he said, accepting the award. Later, when The English Patient won best picture, Zaentz added: "I said my cup was full before. Now it runneth over."
Famously litigious throughout his career, Zaentz sued Disney and Miramax for $20m (£12m) of profits from the the film, according to the Hollywood Reporter.
Although Zaentz is not credited on Peter Jackson's live-action adaptations of Lord Of The Rings and The Hobbit, he was instrumental in bringing the director on board.
However he sued New Line over profits to Jackson's live-action Lord Of The Rings trilogy, eventually settling out of court.
Other legal disputes involved a Southampton pub called The Hobbit and a Birmingham cafe called The Hungry Hobbit, both of which he accused of copyright infringement.
But Zaentz was also notorious for the passion he brought to his projects.
"He doesn't answer to anybody," said John Lithgow, who played a missionary in 1991's At Play In The Fields Of The Lord. "That's the most extraordinary thing about him.
"[The] cost overruns are not being monitored by a bunch of executives thousands of miles from here. He owns it all. He does it the way he wants it. It's incredible how that affects every aspect of production. I've really never worked with anyone like him."
"Saul is a wonderful mixture," Michael Douglas told the Los Angeles Times in 1997.
"There are a lot of people in this town who pretend to have both toughness and good taste, but with Saul it isn't pretence. His power comes from his joy and enthusiasm for a project."
Zaentz received a Producers Guild lifetime achievement award in 1994 and a Bafta Fellowship in 2003.
He is survived by two ex-wives, four children and seven grandchildren.