Frozen beats Hobbit to return to top of US film chart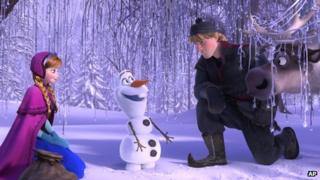 Disney animation Frozen has returned to the top of the North American film chart in its seventh week of release, according to early estimates.
The Scandinavian-themed movie knocked The Hobbit: The Desolation of Smaug off the top spot and into third place.
It is unusual for a film to go back to number one seven weeks after its release.
The last film to do so, according to box office tracker Rentrak, was The Passion of the Christ in 2004.
Frozen took $20.7m (£12.7m) over the weekend.
The next biggest film on the chart was horror offering, Paranormal Activity: The Marked One, which debuted at number two with $18.2m (£11.1m).
Martin Scorsese's The Wolf of Wall Street, a possible Oscar contender, was at four.
Another awards hopeful, David O Russell's crime caper American Hustle, rounded out the top five.
Frozen, which is very loosely based on Hans Christian Andersen's The Snow Queen, has now made more than $600m (£366.8m) worldwide.
That makes it the second-biggest Disney animation release after The Lion King.
Kristen Bell voices the main character in Frozen, which was created by the same team behind 2010 Disney animation Tangled.
Frozen follows the relationship of Queen Elsa and her sister Princess Anna, who battles to save their kingdom when Elsa's involuntary magical powers threaten to destroy it.
The freezing temperatures currently being experienced in some regions of North America are thought to have had some effect on box office takings.
"Everyone probably suffered a little bit from the weather," said Don Harris, head of domestic distribution for Paramount.
"It looked like no matter what movie it was, it was half a million to a million dollars less on Friday and Saturday than you would have been expecting, just based on what the norms were," he explained.
Meanwhile, Stephen Frears' Philomena saw its North American total gross creep up to about $20 (£12.2m) million this weekend.
In its seventh weekend, Philomena took in $1.6 million (£900,000) from 607 locations. The film, starring Dame Judi Dench and Steve Coogan, has enjoyed one of the strongest showings for an arthouse film released in 2013.