Children's TV favourites to appear on stamps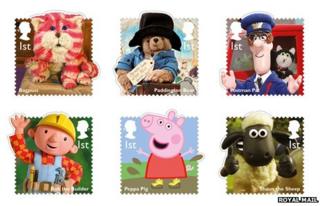 Bagpuss, Postman Pat and Paddington Bear are among the TV favourites set to appear on a new set of stamps.
Characters from 12 shows will appear, stretching from 1950s favourite Andy Pandy to the more recent likes of Peppa Pig and Shaun the Sheep.
Mr Benn, Bob the Builder and Dougal from The Magic Roundabout also feature in the Royal Mail's celebration of 60 years of children's television.
The Classic Children's TV stamps will be released on 7 January.
Ivor the Engine, Great Uncle Bulgaria from The Wombles and Windy Miller from Camberwick Green complete the new issue.
Postman Pat is seen with his "black and white cat" Jess, while Andy Pandy is joined in his picnic basket by fluffy pal Teddy.
Welsh locomotive Ivor, meanwhile, is shown being driven by Edwin Jones, more commonly known as 'Jones the Steam'.
"For over 60 years, Britain's children's TV characters have brought cheer to generations of viewers," said Royal Mail Stamps' Andrew Hammond.
"It feels appropriate to celebrate all of these unforgettable characters on a set of very special stamps."
This year marks the 40th anniversary of Bagpuss and the 50th anniversary of The Magic Roundabout.
Big-screen versions of Postman Pat and Paddington are scheduled to be released in UK cinemas later this year.