American Hustle among Producers Guild nominees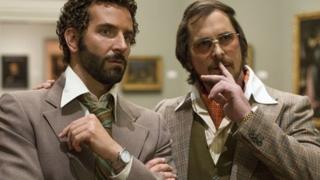 Crime caper American Hustle and space drama Gravity are among the 10 movies up for the Producers Guild of America's version of a best picture prize.
12 Years a Slave and Nebraska are also nominated for its 'outstanding producer of theatrical motion pictures' award.
The Butler and Coen brothers movie Inside Llewyn Davis are notably absent from the 10 films, one of which will collect the prize on 19 January.
The guild's decision comes six weeks before the Oscars on 2 March.
In the last six years, the recipient of the PGA's top award has gone on to be named best picture at the Academy Awards.
Argo, which took the main prize at last year's ceremony, was also the top dog at the 2012 Oscars.
Eight of the 10 films nominated by the Producers Guild last year went on to be nominated in the Academy Awards' best picture category.
Other cinematic releases in contention include Woody Allen's Blue Jasmine, Martin Scorsese's The Wolf of Wall Street and Tom Hanks thriller Captain Phillips.
Fact-based Aids drama Dallas Buyers Club, Spike Jonze's oddball romance Her and Saving Mr Banks, in which Tom Hanks also appears, round out the PGA shortlist.
But there is no place for August: Orange County, a darkly comic family drama starring Julia Roberts and Meryl Streep, or Mandela: Long Walk to Freedom biopic starring Idris Elba as Nelson Mandela.
Despite this, US producer Harvey Weinstein - whose company is distributing both films as well as the Dame Judi Dench drama Philomena - remained upbeat about their Oscar chances.
"We've been so lucky," he told the BBC on Friday, saying the films he is handling had a "great showing" in both the Golden Globe and Screen Actors Guild nominations.
"It is Bafta and the Academy [of Motion Picture Arts and Sciences] that count the most. Let's see what happens there."
"This is a big year," Weinstein added. "There's a lot of great movies, probably the best in a long time. I think the whole race is wide open."
Bafta - the British Academy of Film and Television Arts - announce the nominations for their 2014 film awards on Wednesday.
Special award
Five more titles make the cut for the PGA's animated film producer prize, among them The Croods, Frozen and Monsters University.
Michael G Wilson and Barbara Broccoli, the producers of the James Bond films, will receive a special award at this year's ceremony, to be held at Los Angeles' Beverly Hilton Hotel.
So far in the awards season, critics' groups have bestowed their honours upon American Hustle, Gravity and Her.
But Steve McQueen's historical drama 12 Years a Slave has also figured highly, collecting seven nominations for this year's Golden Globe awards.
The Golden Globes, a key Los Angeles awards ceremony for both cinema and television, will be held on 12 January, one week before the PGA event.
The Writers Guild of America (WGA) and Directors Guild of America (DGA) are also set to announce the nominees for their own film awards.