Novelist Elizabeth Jane Howard dies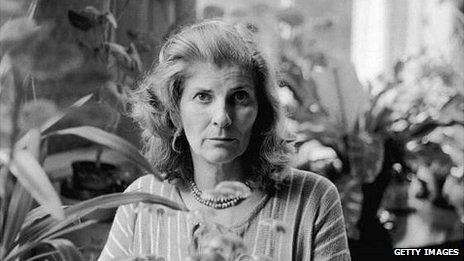 The Cazalet Chronicles author Elizabeth Jane Howard, who was also an actress, model and playwright, has died aged 90.
Her publicist of nearly 40 years, Jackie Graham confirmed to the BBC that she died "peacefully - after a short illness" at home in Bungay, Suffolk this afternoon.
She was married three times, including to fellow author Sir Kingsley Amis.
Charting the fortunes of the upper-class Cazalet family, the works have been dramatised by BBC TV and Radio 4.
All Change, the fifth book in the series, was published in November 2013.
The highly-acclaimed novels, which also include The Light Years, Marking Time, Confusion and Casting Off, have sold millions of copies worldwide.
She was praised for her deft characterizations of alienated people and her sensitivity to the nuances of family relationships.
At just 19, she married Sir Peter Scott, the son of Captain Scott of the Antarctic and went on to marry twice more, most famously and tempestuously to Kingsley Amis.
Howard originally worked as a theatre actress and was a broadcaster for the BBC during World War II, before taking to writing in the 1950s.
Her other novels include The Beautiful Visit, The Long View, After Julius and Something in Disguise.
Howard also wrote TV scripts for the likes of Upstairs, Downstairs and penned short fiction such as Mr Wrong. She edited The Lover's Companion in 1978.
Speaking to Radio 4's Jim Naughtie for an interview broadcast in December 2013, Howard revealed that she had already started writing another novel, outside the Cazalet series.
"It makes me want to get up in the morning, which I don't think I'd want to do much otherwise," said Howard.
"And it's fascinating - the more you think you know about a character, the more you find out about them."
She also spoke about her own bohemian life, affairs and marriages. Naughtie asked: "It was pretty frisky, wasn't it?," to which she replied, "Oh yes it was."
"And, do you know, I wasn't the only frisker," Howard continued.
"Frisky was quite popular in those days. Wars always make people pretty unfaithful, because they feel this might be their last chance."
Naughtie asked if she would have been able to write those books if she had not had those love affairs.
"That's probably true but they might have been even more roaring. Who can tell?"
Her autobiography, Slipstream, was published in 2002, which the Telegraph said, proved she was unlike most autobiographers.
"Elizabeth Jane Howard seems not to be aiming for admiration or approval; she paints a quite unattractive picture of the young woman she used to be," it said.
The book revealed that on one holiday, she and ex-husband Sir Kingsley - who she was married to for 18 years, had written a few pages of each other's novels after swapping typewriters.
"Kingsley started chewing his nails and staring into space when he was writing mine. I started laughing when I was writing his," she said.
However, her novel writing took second place as she threw herself into family life following their marriage in 1965, after meeting at the Cheltenham Literary Festival.
During an interview with Bookanista, Howard said Sir Kingsley and Cecil Day-Lewis, with whom she had an affair, were the only people she could talk to about writing.
She also revealed that she had written what proved to be her final novel, All Change, in just a year.
"I had a steady regime, which is what I wanted. I've been looking after other people all my life, as women do," said Howard.
She described the "short time of euphoria" when she finished a book as "a lovely feeling, it's probably one of the best feelings in the world".
However she admitted to being "very frightened of writing".
"You've got to be pretty nervous about the challenge, the blank page - anything could be on it, it could be crap or it could be wonderful," she said.