Juanita Moore, Oscar-nominated Imitation of Life star, dies aged 99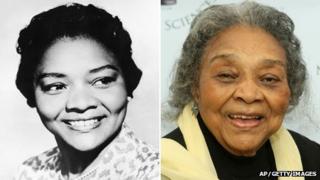 Juanita Moore, the veteran African-American actress who was nominated for an Oscar for 1959's Imitation of Life, has died aged 99.
Moore, a former chorus girl at Harlem's Cotton Club, was only the fifth black actor to be shortlisted for an Oscar.
The actress was recognised for her role as an embattled single mother whose daughter passes herself off as white.
Her other films included The Girl Can't Help It, The Singing Nun and Bruce Willis's Disney comedy The Kid.
She also appeared on television and performed on stage in London, Los Angeles and New York.
Moore's grandson, the actor Kirk Kelley-Kahn, said she collapsed and died on Wednesday at her Los Angeles home.
Directed by Douglas Sirk and starring Lana Turner, Imitation of Life's melodramatic flourishes saw it go on to become a cult success.
Yet Moore would later have reservations about her Oscar nomination, claiming it stopped her from being cast in other feature films.
"I worked more before I was nominated,'' she told the Los Angeles Times in 1967. "Casting directors think an Oscar nominee is suddenly in another category."
Susan Kohner, who played the daughter of Moore's character as an adult in Imitation of Life, was also nominated for her work in the film.
Both women lost out to Shelley Winters, who won the first of her two best supporting actress Oscars that year for her work in The Diary of Anne Frank.