Sherlock return watched by 9.2m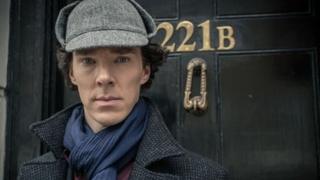 The return of Sherlock to BBC One was watched by an average of 9.2 million people, according to overnight figures.
Viewing peaked at 9.7 million during the first 5 minutes of the drama, which saw the detective reunited with Dr John Watson after he appeared to die at the finale of series two.
The first episode of the third series offered fans several different versions of how Holmes survived the fall.
Consolidated figures, including iPlayer viewing, will be released next week.
Sherlock was scheduled against Harry Potter and the Deathly Hallows Part 2 on ITV, which pulled in an average 5.1 million viewers.
Some 2.5 million watched David Blaine: Real or Magic? on Channel 4, while 1.5 million watched Glasgow Big Night Out on BBC Two and 1.3 million saw Channel 5's Audience with Ken Dodd.
Sherlock's audience is an improvement on the series two premiere, which was watched by 8.75 million on 1 January, 2012 - rising to 10.66 million after seven days of consolidated viewing.
Some 9.78 million watched the series finale, which saw Holmes, played by Benedict Cumberbatch, plunge to his apparent death.
Steven Moffat, Sherlock's co-creator, executive producer and writer with Mark Gatiss, called the ratings "thrilling news".
"A tribute to the team who work so hard, and with such pride, on the show, and of course to the genius of [Holmes author] Sir Arthur Conan Doyle," said Moffat.
"It's proof that audiences will show up if you give them what they want - though we can't throw Benedict off a roof every week."
'Triumphant return'
Reviews for Wednesday's episode were generally positive, with The Guardian's Sam Wollaston saying he thought Sir Arthur "would approve [and] enjoy it too".
The Daily Telegraph's Chris Harvey hailed it as "the triumphant return of the most charismatic, most fun character on British television".
However the Daily Mail's Christopher Stevens called it a "cop-out", saying Holmes's complex explanation for his survival was "barely more convincing" than the red herring versions.
According to social media analyst SecondSync, the opening episode generated more than 300,000 tweets on Twitter.
The drama also featured Cumberbatch's parents, appearing as his on-screen mother and father.
The actor said he was "so proud" of Wanda Ventham and Timothy Carlton, but admitted it was "kind of nerve-wracking" to appear alongside them.
Sherlock co-creator Gatiss said he was "delighted our loyal audience tuned in on an appropriately bleak and stormy New Year's night".
He added: "After two years it's fantastic to have this response to Sherlock, John and all the team being back on TV. All this and Dr Watson gets married in three days time!"
The next episode is due to air on BBC One on Sunday night.