Digital services boost sales of video and music sales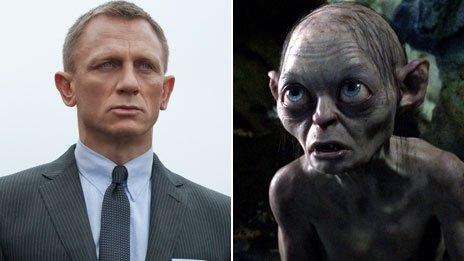 Digital services like Spotify, Netflix and iTunes have helped boost sales of video and music in the UK, according to figures from entertainment retailers.
Digital sales of video grew by 40% in 2013, helping to offset a 6.8% decline in sales of physical formats.
Music streaming, meanwhile, saw a 33.7% rise and now accounts for nearly 10% of consumer revenues from recorded music.
The overall UK music, video and games market was worth £5.4 billion in 2013, up 4% on 2012's total of £5.1 billion.
Kim Bayley, director general of the Entertainment Retailers Association (ERA), said this was "a stunning result after at least five years of decline".
Digital video, which includes iTunes downloads as well as streaming services like Netflix and Lovefilm, made up 30% of 2013's total video sales of £2.06 billion.
Skyfall, the latest James Bond film, was the year's biggest-selling video, having shifted 2.96m units since its release in February.
The first instalment of the Hobbit franchise, An Unexpected Journey, was the second biggest seller, having sold 2.06 units since its release in April.
The picture for the British music scene is not as rosy with overall sales falling by half a percent.
Physical sales of music have fallen by more than 7%, while digital sales' 3.5% rise is lower than a 15% percent boost seen in the previous year.
The slack has been picked up however, by streaming of music via such services as Spotify and Deezer which saw subscription revenues rise to £103.1m, according to estimates from the BPI (British Phonographic Industry).
The trade body put the total value of UK recording music sales at £1.04 billion. Digital sales, not including streaming revenues, account for around 40% of that total.
For all digital's advances, physical formats still account for more than half - 56% - of all sales of music, video and games in the UK.
Blu-ray video was the best performing physical format, with sales of almost £252m constituting a 10% increase on 2012.
But vinyl albums also saw a significant increase over the last 12 months, with sales in 2014 more than doubling to £14.6m.
Now That's What I Call Music 86 was the biggest-selling album of 2013, having shifted 1.2m copies. Its sister titles, Now... 85 and Now... 84, were the year's second and third biggest-selling albums respectively.
One Direction were the biggest selling single UK act for 2013, surpassing Emeli Sande - whose album was released in 2012.
Their 685,000 copies sole mean no single UK artists sold more than one million copies, a first for more than 20 years.
The ERA's Kim Bayley attributed the overall drop in music sales in 2013, in part, to "a weak release schedule".
Related Internet Links
The BBC is not responsible for the content of external sites.