New Bruce Springsteen album appears early on Amazon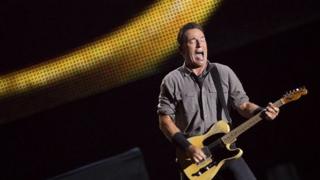 Bruce Springsteen's latest album has briefly appeared for download on Amazon's US site, two weeks ahead of its scheduled release date.
Billboard magazine reported that High Hopes appeared online for several hours on Saturday.
Although it was subsequently removed from sale, the record has now appeared on several file-sharing sites.
Springsteen has described High Hopes as the best of his "unreleased material from the past decade."
It features contributions from Clarence Clemons and Danny Federici - two members of the E Street Band who have died in recent years.
Tom Morello, best known for his work with Rage Against The Machine, also joins the line-up for eight tracks, after standing in for regular guitarist Steve Van Zandt on several dates of Springsteen's recent Wrecking Ball tour.
The title track is a cover of Tim Scott McConnell's folk song, which Springsteen originally recorded for an EP in 1996.
The record also includes re-worked versions of Down In The Hole and The Ghost Of Tom Joad, alongside a cover of punk band Suicide's Dream Baby Dream.
"The best way to describe this record is that it's a bit of an anomaly," Springsteen recently told Rolling Stone Magazine.
Amazon has yet to make a comment on the incident, in which individual songs were available to download via its mobile site.
The tracks have since been removed from sale, and the album's official release is still listed as 14 January.
Springsteen resumes his world tour in South Africa next month, while the E Street Band are due to be inducted into the Rock and Roll Hall of Fame in April.