Final countdown for Sherlock's return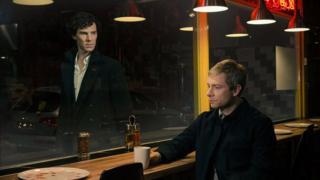 The wait is almost over... viewers around the world will finally learn how Sherlock cheated death, plunging from a rooftop onto the pavement, watched by a horrified Watson.
But don't expect it to be straightforward.
At a recent screening of new episode The Empty Hearse, a gaggle of whooping fans saw how he did it, having been sworn to secrecy by the show's creators.
The screening included a Q&A with Sherlock's key cast members and creators, who looked slightly bashful when the audience screamed at their arrival like boy band groupies.
The Reichenbach Fall, the last episode of the second series, was shown in the UK in January 2012, attracting 7.9m viewers with 30% of the TV audience. It has since been broadcast in more than 200 countries.
Speculation among followers subsequently hit fever pitch, with theories on Sherlock's survival abounding on sites such as Buzzfeed. Twitter is also ramping up for Sherlock's return with a constant flow of excited tweets from fans.
The BBC has also released a seven-minute prequel to the latest episode online, revealing supposed sightings of the elusive sleuth.
Co-creator and writer Mark Gatiss admitted he was taken aback by the mass excitement generated by the previous episode, which saw both Sherlock and his nemesis Jim Moriarty die.
"We had absolutely no idea it was going to take off in the epic proportions it has, so that by the time we came to actually do it [this episode], we really had to address the fact that it had become so huge," he said.
"There are only so many ways you can do it [bring Sherlock back] but I think people were expecting something mystical, a Tardis", joked Gatiss, who also writes for Doctor Who.
"We knew right from the start how we were going to do it. The important thing was that he die in John [Watson's] arms and reappear."
Fellow co-creator and Doctor Who executive producer Steven Moffat added that the success of Sherlock had surpassed all their expectations.
"Mark and I thought we had a very, very good show. I thought it would be a sort of posh art-housey hit and it would do three or four million," he said.
"We did not expect it to be an instant mega hit around the world."
Hollywood profiles
The show's two stars Benedict Cumberbatch and Martin Freeman are both now ranked as major Hollywood players.
Since the last Sherlock episode aired, Martin Freeman has starred in two of Peter Jackson's successful Hobbit films as Bilbo Baggins, while Cumberbatch provided the voice of Smaug the dragon and the Necromancer.
Both films have so far taken a combined $493,307,568 (£299,535,556) at the box office.
Cumberbatch played the villain in JJ Abrams' Star Trek Into Darkness and was in the hotly-tipped 12 Years a Slave as slave owner William Ford. His other recent film appearances include August: Osage County and The Fifth Estate.
Cumberbatch, who plays the title role in Sherlock, said his first reading of the script for The Empty Hearse was "pure delight".
Emotional reunion
The episode reveals a few changes in the complex relationship between Sherlock and John, played by Freeman. It is two years since John saw Sherlock die and he has found it hard to readjust.
"Primarily the focus is about them reuniting," Cumberbatch said. "John has been through an emotional gauntlet and that's rightfully played out and it takes a bit of time [to readjust to Sherlock's return], it's not an easy thing.
"I think Sherlock has regressed, he thinks all he has to do is flip the collar up and wink, and off they go on another adventure."
Freeman, who won a Bafta for his role as John Watson in 2011, added that he is devoted to the show because of its quality.
"These are both really good parts for John and Sherlock. Some of the best scripts I've ever read. It's one of the best shows I'll do if I live to be 100," he said.
Both stars said filming Sherlock's fall in front of the hundreds of fans gathered was quite an experience.
Freeman described it as "like being at a premiere, it was odd, it was not like doing a play or filming, it was a new genre of acting".
But how was the secret behind Sherlock's plunge kept under wraps?
Moffat paid tribute to those watching the filming, saying their restraint in not revealing what they saw "was an act of kindness and self-discipline".
The latest episode also features the return of Gatiss as Sherlock's brother Mycroft, and the debut of Freeman's real-life partner Amanda Abbington, as John's girlfriend Mary.
She said she got the role a couple of years ago, having previously worked with Gatiss and producer Sue Vertue, who is married to Moffat.
"They always said, 'We want to write something for you in the show,' because they like to get family members in. But I didn't expect such a key role. And I'm very flattered," she added.
Freeman joked that "it wasn't a John and Yoko thing where I said 'I want my Mrs in this'".
Gatiss was clearly pleased with how warmly the audience reacted to the episode, which includes a fair smattering of humour, saying the pressure on him as writer to get it right had been immense.
"Someone did say to me,' What does it feel like writing the most scrutinised piece of television in the last 20 years?' and suddenly it hit me.
"But I'm thrilled to get it out there. The main thing to stress is that it's much more about getting them back together than it is about the mechanics of how he did it. There are only so many ways that you can fall off a roof."
Erotic fiction
Perhaps the only awkward moment during the screening was when writer Caitlin Moran, who chaired the Q&A, asked the leads to read out a piece of fan fiction, where fans write dialogue online for their favourite fictional characters.
This particular piece of writing featured the lead-up to an erotic scene between Sherlock and John, but it backfired somewhat as both actors looked awkward reading it out on stage.
Moran apologised profusely for asking them to do it, and Cumberbatch added: "Fans can do what they like but that [a love scene between them] is ludicrous in our universe, so sorry to be all 'eeurgh' but his nibs ain't doing that."
So all fans need to do now is sit back and watch the show. But do expect your grey matter to be put through its paces.
Of his fall and resurrection, even Cumberbatch admitted: "I sat there wondering in the end, I'm not sure if I even know."
The Empty Hearse is broadcast on BBC One at 9pm on 1 January.