Hobbit beats Wolf at US Box Office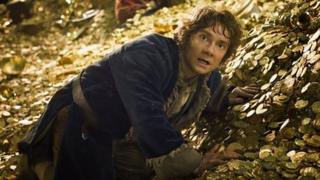 The Hobbit: The Desolation Of Smaug has spent a third week on top of the US box office despite festive competition from The Wolf Of Wall Street.
Starring Sherlock actors Martin Freeman and Benedict Cumberbatch, the film took $30m (£18m) over the weekend, bringing its US total to $190m (£11.5m).
Disney animation Frozen was at number two, switching places with Will Ferrell's comedy Anchorman 2 at three.
Martin Scorsese's Wolf of Wall Street was the biggest new release, at five.
Marking the director's fifth collaboration with Leonardo DiCaprio, the black comedy is based on stock broker Jordan Belfort's memoir of the same name.
It took $19 million (£11.5m) after opening at number two on Christmas Day with $9.15 million (£5.5m).
Analysts said it had suffered slightly due to its three-hour length - meaning it cannot be shown as many times in a day as its competitors.
But critics have been favourable - with the Washington Post describing DiCaprio's portrayal of the badly-behaved Belfort as the "biggest, loudest role he's ever played".
The only other new entry in the top 10 was Keanu Reeves' samurai film 47 Ronin, which weathered bad reviews to debut at number nine with $9.9m (£6m).
Reuters reported that film company Universal had revised its profit estimates on Christmas Eve after it became apparent the film would not break even.
"Of course it's very disappointing and you don't want to open a picture at this level, but exit polls are decent and we think it will find its way," said Nikki Rocco, president for domestic distribution at the company.
Record year
With two days left to go, the North American Box Office is on track to beat last year's record takings of $10.8bn (£6.5bn), said chart trackers Rentrak.
It estimated ticket sales would top $10.9bn (£6.9bn) by the New Year, boosted by several award-friendly films in the Top 10.
Chief among them is American Hustle, which has already gained seven Golden Globe nominations.
Directed by David O. Russell, it stars Jennifer Lawrence and Bradley Cooper, who appeared in his Oscar-winning Silver Linings Playbook, alongside Amy Adams and Christian Bale, from the similarly-lauded Russell drama The Fighter.
Based on an undercover investigation into political corruption in the 1970s, it has held the number four spot for two consecutive weeks, taking £19.6m (£11.8m) in the latest chart.
Emma Thompson also has a Golden Globe nomination for her role as Mary Poppins' author PL Travers in Saving Mr Banks, which took sixth place.
Meanwhile, Ben Stiller's feel-good comedy The Secret Life Of Walter Mitty - about an office-bound worker who daydreams himself into extraordinary situations - took seventh place.
The Hunger Games sequel, Catching Fire, was in eighth, followed by 47 Ronin, and Tyler Perry's Madea Family Christmas completed the top 10.