TV star Phil Robertson has 'anti-gay' suspension lifted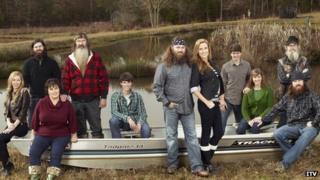 US reality star Phil Robertson will be returning to hit show Duck Dynasty following his suspension earlier this month over derogatory remarks he made about homosexuality.
TV network A&E said it would resume filming "later this spring with the entire Robertson family".
"Duck Dynasty is not a show about one man's views," the statement said.
"It resonates with a large audience because it is a show about family… a family that America has come to love."
The show - now in its fourth series - has broken several ratings records on both A&E and cable television as a whole, with the fourth season premiere drawing 11.8 million viewers.
It follows the lives of the Robertson family, a clan with old-fashioned values who live together in Louisiana, running their multi-million dollar family business, Duck Commander - which makes products for duck hunters.
'Logical'
Interviewed for the January issue of GQ, patriarch Phil Robertson was asked to describe sin and replied: "Start with homosexual behaviour and just morph out from there."
He said he could not understand why a man would choose to sleep with another man, instead of a woman.
"There's more there! She's got more to offer. I mean, come on, dudes! You know what I'm saying?" he was quoted as saying. "But hey, sin: It's not logical, my man. It's just not logical".
A&E responded by suspending him from the show, saying it was "extremely disappointed", adding the comments were based on Robertson's "personal beliefs" and "in no way reflect those of A&E".
The suspension sparked a nationwide debate over tolerance and religion, with Robertson winning support from some US conservative politicians, such as Sarah Palin, and fans saying that Robertson's beliefs were consistent with the Bible.
An online petition, IStandWithPhil.com, had gained more than 260,000 signatures since the suspension began.
"I'm glad to hear that A&E came to its senses & recognized that tolerance of religious views is more important than political correctness," Louisiana Governor Bobby Jindal said on Twitter, after the suspension was lifted on Friday.
Campaign
A spokesman for the Gay And Lesbian Alliance Against Defamation (GLAAD), who previously condemned Robertson's remarks, issued a response to the star's reinstatement, calling on Robertson to "look gay people in the eyes".
It concluded: "If dialogue with Phil is not part of next steps then A&E has chosen profits over African American and gay people", alluding to remarks Robertson made about racial segregation laws in the same interview.
A&E said they would launch a nationwide public service campaign "promoting unity, tolerance and acceptance among all people".
"While Phil's comments made in the interview reflect his personal views based on his own beliefs and his own personal journey, he and his family have publicly stated they regret the 'coarse language' he used and the misinterpretation of his core beliefs based only on the article. He also made it clear he would 'never incite or encourage hate'."
Robertson, who describes himself as "a product of the 60s", gave the sermon at his local Louisiana church over the weekend - saying he would not "back off from my path", but adding: "I love all men and women. I am a lover of humanity, not a hater."
More than 9m viewers regularly watch reality sitcom Duck Dynasty in the US.
In August, A&E signed the entire Robertson clan to a multi-year deal worth more than $200,000 (£121,500) per episode.
The fifth series is due to to be broadcast mid-January, with Robertson's suspension having no impact since it took place after he had completed filming.