Gravity director Alfonso Cuaron wins effects award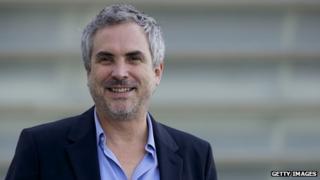 Gravity director Alfonso Cuaron is to be honoured by Hollywood's Visual Effects Society (VES).
Cuaron will receive the society's visionary award at the 12th annual VES ceremony on 12 February in Los Angeles.
"Alfonso pushes the known boundaries of film-making," VES chairman Jeffrey A Okun said.
Gravity is expected to be among 2014's Oscar contenders. Cuaron's other films include Harry Potter and the Prisoner of Azkaban and Children of Men.
"He has been at the forefront in using visual effects to tell remarkable, highly nuanced stories that change the way we think about what is possible to achieve," Mr Okun said.
"Throughout his career, Alfonso has shown a rare talent for using cutting-edge technology to engage us in his deeply visceral storytelling and create unforgettable cinematic experiences."
Most Oscar experts agree that Gravity, Cuaron's 3D film about astronauts adrift in space starring Sandra Bullock and George Clooney, will get a best picture nomination when the shortlist is announced in mid-January.
Bullock is also hotly tipped to receive a best actress nomination and the film is predicted to do well in the special effects categories.
Mexican film-maker Cuaron made his US feature film debut with A Little Princess in 1995, followed by Great Expectations in 1998.
His first Oscar nomination came for 2001's Y Tu Mama Tambien, for which he was nominated in the best original screenplay category.
Children of Men (2006) brought him two further nominations for best adapted screenplay and best editing.
Previous winners of the VES visionary award include Ang Lee and Christopher Nolan.