Yusef Lateef, Grammy-winning jazz musician, dies aged 93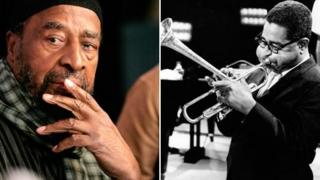 Grammy-winning musician Yusef Lateef, a multi-instrumentalist known for fusing jazz and Eastern music, has died at 93.
Lateef played in bands with Dizzy Gillespie and Charles Mingus and gained a global following as one of the first to incorporate world music into jazz.
In 1987 he won a Grammy for best new age performance for Little Symphony, on which he played all the instruments.
Lateef had battled prostate cancer and died on Monday at his home in Shutesbury, Massachusetts.
An obituary posted by the Douglass Funeral Home in Amherst said he was "well known for his support and mentorship of up and coming artists" and that he had been performing up to summer 2013.
Born William Emanuel Huddleston in 1920, he emerged out of the Detroit jazz scene in the 1940s and '50s before moving to New York in 1960.
He began his career as a tenor saxophonist but also mastered the flute, oboe and bassoon and used woodwind instruments from many countries in his music.
His other accolades included a doctorate in education from the University of Massachusetts and a National Endowment for the Arts award in 2010.