Keanu Reeves rules out Point Break remake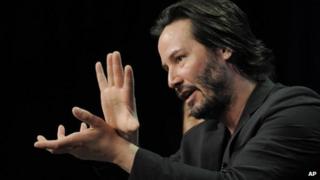 Film star Keanu Reeves has ruled out the possibility of starring in a remake of his 1991 action hit Point Break.
Asked by BBC 5 live if he would like to be involved, Reeves said: "Absolutely not. It's not my place."
After expressing reservations about the quality of the project, he added: "If they can find a way to do it that works out good, then God bless them."
In the original, Reeves played an FBI agent who infiltrates a community of surfers while pursuing a criminal gang.
The actor, who turns 50 next year, told 5 live's Colin Paterson the remake "sounds very exciting - but is it a good thing? I don't know".
He went on to speculate that some films - such as Wizard of Oz or Apocalypse Now - should have a "no remake clause".
Point Break, which also starred Gary Busey and Patrick Swayze, was based on the glossy action template of films like Top Gun, with adrenalin-rush skydiving and surfing sequences bolstering a somewhat flimsy plot.
Directed by Kathryn Bigelow - who went on to win an Oscar for The Hurt Locker - it became a cult hit in the 1990s and a sequel had been rumoured for many years.
The death of Patrick Swayze in 2009 made that plan unlikely, and two years later film company Alcon Entertainment announced it would embark on a remake instead.
"It's not a literal remake of the original the way Footloose was," producer Andrew Kosove told Indiewire earlier this year.
He added that the new film would have "elements of the original and it's not just surfing, it's other kinds of extreme sports, but surfing is very, very prominent in the story".
No cast has been announced, but a script has been written by Kurt Wimmer, who penned Angelina Jolie thriller Salt. Directorial duties will be handled by Ericson Core, a cinematographer on the Fast And Furious series.
Reeves, whose latest film is samurai blockbuster 47 Ronin, is hoping to revisit one of his early hits and make a third film in the Bill and Ted franchise.
"It's still in the dream," he said. "There's a script and we're trying to make it. So we'll see."
Listen to the full Keanu Reeves interview on BBC 5 live on 24 December from 14:00 GMT.