Show seeks the secret of happiness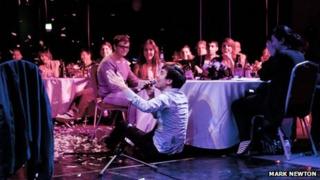 What is your happiest memory? That is the question a group of artists and musicians are asking people across the UK before putting on emotional live shows based on the memories they collect.
There are first dates, first dances, first houses. There are memories of births - lots of births - and poignant recollections of perfect times with loved ones who are lost.
There are carefree drunken nights and fading family flashbacks. There are snowy outings to see Santa, shopping trips with Nanna, sunny days in the Lake District, swimming in the River Tees.
So far, 3,000 people have given memories like these to Bring the Happy, an art and music project that aims to "map the happiness" of the UK.
The memories are ecstatic and bittersweet, mundane and maudlin. All human life is here.
The project started in Leeds in 2010 and has since visited Coventry, Tunbridge Wells, Edinburgh, Stockton-on-Tees and Barnsley. It is now in Exeter and will travel to London and Limerick, Ireland, later this year.
Three Leeds artists and performers who go by the name Invisible Flock take over an empty shop in each location for three weeks. They invite members of the public in to tell their happiest memories and plot them on a map.
'Raucous and drunken'
Invisible Flock then put on a show about the memories with Leeds rock band Hope and Social, who write a new song in each town or city they visit.
The result is an emotional rollercoaster. It is part spoken word and part music, part euphoric riot and part tear-jerking theatre.
"It's all quite raucous and drunken and it feels like a cross between a wedding and a wake," says Invisible Flock's Ben Eaton. "It has that level of emotion."
Eaton and his collaborators started the project to show a different side to the country at a time when the media was talking about "broken Britain".
So after accumulating thousands of memories, what have they learned about the secret to happiness?
"Not even 1% of the memories are about material things, which is very interesting," Eaton replies.
"And if they are about material things, they're only ever by small children, like a nine-year-old going, 'I got an Xbox.'"
Hope and Social singer Simon Wainwright adds: "They're always about relationships in one way or another. Human interactions. Family or friends or lovers."
They fed the memories into a piece of software that counted the most common words. "The biggest word that came up was 'Home'," Eaton says.
"That was the word that was said the most often. Happiness is about other people and belonging as much as anything else.
"The show talks about how we are defined by the places where we live, and how we define them at the same time. That exchange is what I think makes happiness. Feeling like you belong."
The Bring the Happy live show manages to avoid being not too twee and smug, however.
"Even through we're talking to people about happiness, the stuff they give us is often very sad or melancholic, partly because people are looking back," Eaton says.
"There's always a degree to which that will evoke a certain amount of nostalgia."
As the show says at one point, lots of the reminiscences begin with the words: "I was happy but..."
As well as having a song dedicated to all the babies who have been born, and a mini-rave based on tales of drink and drug-fuelled escapades, the show includes a track simply titled Death.
There are also wistful tunes about places and communities that have changed for good.
Gathering memories builds up a fascinating portrait of each town or city.
Good old days
"You really get to know it," Wainwright explains. "You feel like you know the soul of the place. Or the missing soul of the place.
"Stockton had a real character of its own. Really strong. Even Barnsley, through its lack of character, had a character, which was really interesting.
"We went [to Barnsley] with some preconceptions that there would be a lot of memories about the collapse of industry and the pits and all that side of life. But that didn't come across at all. Not once."
Eaton adds: "In Coventry we got [memories about] the auto industry. We got that all day every day. In Stockton we got the industry falling apart there and the town being changed.
"In Leeds we got a lot of the city changing and redevelopment and all of that stuff. So we thought we'd get the same in Barnsley but we really didn't."
Wainwright adds: "We never really worked out why. I don't know if it was a different generation or just down to where the shop was."
Endless inspiration
Hope and Social are a good band to turn memories into music. They are experts at playing a rousing rock 'n' roll that makes the heart swell.
They describe themselves as "a Yorkshire E Street band". There is a parallel universe in which they are one of Britain's biggest bands.
"You could write songs for the rest of time reading through those memories," the singer says.
"Everything about life is in that show. If you can't find inspiration for lyrics in there, you might as well give up."
Bring the Happy is collecting memories in the old Oggy Oggy Pasty Shop on Queen Street, Exeter, until 22 March. Live shows will take place on 28, 29 and 30 March at the Met Office, Exeter.