Corrie's Hayley on life after the Street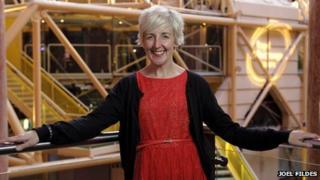 TV soaps may have become more far-fetched in the battle for ratings, but one of Coronation Street's most powerful plots of late has been the story of humble Hayley Cropper's cancer. Actress Julie Hesmondhalgh discusses Hayley and life after Corrie.
After 16 years in Coronation Street, Julie Hesmondhalgh is used to being watched by 10 million people a night.
But when she took a break to act on stage for fewer than 100 people per night in 2012, she trembled with fright before every performance.
"It was a really, really terrifying experience for me," she recalls.
Surely it is less nerve-wracking to act for 100 people than 10 million people on TV. "But you can't see them!" she cries, referring to her viewers. "No, theatre is much more terrifying."
In which case, Hesmondhalgh is letting herself in for many more nervous nights after she leaves Coronation Street later this month.
Despite the terror, her stint in the play Black Roses, about murdered teenager Sophie Lancaster at Manchester's Royal Exchange studio, was rewarding enough to convince her to swap the Street for the stage.
"When I started to do the play and saw the effect it had, that was quite mindblowing for me," Hesmondhalgh explains.
"People were really affected by it and that really shifted something in me - that immediacy."
A few months later, she decided to hand in her notice to Coronation Street's producers.
So, shortly after Hayley's final scenes are screened on TV, Hesmondhalgh will be trembling at the Royal Exchange again on the opening night of her next play, the drama Blindsided.
It tells the story of a young woman whose life is devastated after falling in love with a man in Stockport in the 1970s.
It is by acclaimed playwright Simon Stephens, whose other credits include Punk Rock, Port and the adaptation of The Curious Incident of the Dog in the Night-Time at the National Theatre.
After that, Hesmondhalgh will return to Black Roses for a tour and a run at London's Southbank Centre later in the spring.
On screen, the modest and homely Hayley, known for her distinctive red anorak, was diagnosed with pancreatic cancer last July.
While she has been given her fair share of twists and turns during her illness, at its heart is a somewhat old-fashioned soap storyline. It is slow-burning and unsensational, and is centred on a couple whose flaws and foibles make them human and real.
Hesmondhalgh joined the soap in 1997 when writers played a bad joke on the hapless and possibly autistic Roy Cropper. Hayley went on a series of dates with Roy before revealing she was a pre-operative transsexual.
That was supposed to be that. But the two co-stars had a chemistry and have been together ever since.
Explaining Roy and Hayley's longevity, Hesmondhalgh points to a quality that has largely been squeezed out of soapland: steadfastness.
"They're the most conservative couple in soap, even though she's transgendered and he's, you know, on the spectrum," she says.
"People have responded to them because they want them to be all right. They care about them. They're the moral centre of the show."
While an audience's reaction is immediate in a theatre, TV actors cannot normally see how viewers react to their scenes.
But there was one recent occasion when Hesmondhalgh could watch viewers watching her. She describes it as one of the highlights of her career.
It was when Channel 4's Gogglebox, in which real people are filmed watching TV, featured a Coronation Street episode in which Hayley was talking about wanting to end her own life at a time of her choosing.
Gogglebox gave an insight into the debates it sparked in living rooms up and down the land.
"That was absolutely incredible for me and it gave me a real sense of the scale of it," Hesmondhalgh says. "These couples and families were watching it were from all different social groups and I was, 'Wow, that's incredible.'
"I get a lot of response on Twitter, which is fab, but that was something else, to see them in the moment of experiencing it. That made me really proud."
At the suggestion that soaps now often go over the top in an attempt to chase ratings, Hesmondhalgh chimes in: "Yeah, can be.
"It's a market force, isn't it?" she continues. "There has to be a certain element of demographic pleasing and all that.
"But I would defend Corrie and say it's always been character-driven and I don't think that's changed.
"It's not a homogenous group of beautiful people shagging each other. People are doing things because they're flawed and interesting. Like Peter Barlow - oh, God, he's such a weak man!
"And it's so frustrating because he's so attractive. But he's so weak!
"There are all those archetypes of northern writing - the strong women who get knocked down and get back up again and the feckless men. I think that runs through it like a rich seam, still.
"And no matter how crazy things go, because of things being a commercial enterprise ultimately, I think it does keep its heart and soul. Especially in this storyline, that has been proved."
Changing direction
Now she is leaving, Hesmondhalgh must do what many in her position have not. She must become more than just a former soap star.
The two Royal Exchange roles are a good start. But Hesmondhalgh admits the prospect of leaving Hayley behind and reinventing herself has been a worry.
Her former Corrie co-star Katherine Kelly, who went straight from playing Becky McDonald in the soap to glowing reviews at the National Theatre and a string of other TV shows, is a role model.
"Do you know what?" Hesmondhalgh says. "I'm looking forward to it all.
"I'm looking forward to all the highs and lows of being a jobbing actor again - going for auditions, wondering whether you've got the part, not hearing, getting depressed, getting one, being elated, doing plays that don't work out so well. All of it. I want it all."
Blindsided opens at the Royal Exchange in Manchester on 23 January. Black Roses returns to the Royal Exchange Studio on 26 February before a north-west tour and a run at the Southbank Centre.