Anna Paquin cut out of X-Men film Days of Future Past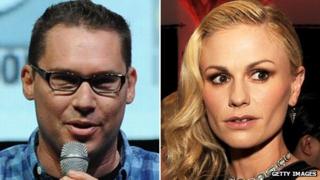 Director Bryan Singer has revealed that Oscar-winner Anna Paquin's character Rogue will no longer feature in X-Men: Days of Future Past.
The 31-year-old had reprised her role in a rescue sequence shot early in the sequel's production that has since been adjudged to be surplus to requirements.
Singer told Entertainment Weekly the scene had become "extraneous" and "was just one of the things that had to go".
Paquin, the director said, "completely understood" that "films evolve".
The Usual Suspects film-maker said the True Blood star had done "a fantastic job" in the X-Men sequel, had been "awesome" in the sequence and was "a brilliant actress".
The scene, which took a week to shoot, had seen Paquin appear alongside Sir Ian McKellen's Magneto, Sir Patrick Stewart's Professor X and Shawn Ashmore's younger mutant Iceman.
Singer said the sequence would "probably" feature on the film's DVD and that he would work with Paquin again "in a heartbeat".
"It's very disappointing, but she's very professional and she knows that stuff happens, particularly with material you shoot early on in production."
The announcement follows Paquin's appearance at last July's Comic Con event in San Diego, California alongside fellow members of the Future Past cast.
The film, out in the UK in May, sees Hugh Jackman's Wolverine character travel back in time to meet earlier incarnations of the Magneto and Professor X characters.
Singer directed the first two instalments in the X-Men series, which deal with characters endowed with superhuman abilities and the difficulties they face assimilating into society.
Paquin was 11 when she won a best supporting actress Oscar for her role in The Piano. She played Rogue in the first three X-Men movies before landing the role of Sookie Stackhouse in True Blood.
Last July HBO announced that the seventh and final season of the vampire drama would be broadcast next year.