Hobbit holds firm at top of US box office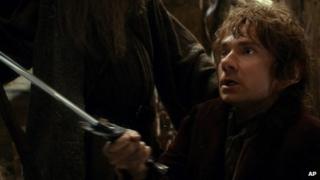 The Hobbit: The Desolation of Smaug has continued its grip on the North American box office, topping the chart for a second consecutive weekend.
The second instalment of Peter Jackson's three-part Hobbit adaptation took $31.5m (£19.3m).
It comfortably held off competition from Will Ferrell's Anchorman 2: The Legend Continues, which made $26.8m (£16.4m) from Friday to Saturday.
The comedy has now taken $40m (£24.5m) since opening on Wednesday.
Anchorman 2 - which sees character Ron Burgundy join a 24-hour cable news network - performed better in its first weekend than its predecessor, which took $28.4m (£17.4m) in 2004.
Disney animation Frozen fell one place to three, taking $19.2m (£11.74m).
Just behind was David O Russell's crime drama American Hustle, taking $19.1m (£11.68m) in its first weekend of nationwide release after opening in six cinemas last week.
The film, staring Christian Bale, Bradley Cooper, Amy Adams and Jennifer Lawrence, is loosely based on a real-life 1970s bribery scandal that led to the conviction of seven members of the US Congress and several local and federal officials.
Saving Mr Banks finished in fifth place in its first weekend of wide release, taking $9.3m (£5.7m).
The $35m (£21.4m) production tells the story of how Walt Disney, played by Tom Hanks, brought Mary Poppins to the big screen.
The number nine spot was grabbed by a surprisingly strong start for Dhoom 3, setting a North American box office opening record for a Bollywood film, taking $3.3m (£2m).
Total US box office takings for 2013 have risen 0.8% in the last year to almost $10.37bn (£6.34bn) according to box office tracker Rentrak.
It is expected to surpass last year's record of $10.77bn (£6.59bn) thanks to a number of Christmas Day releases.
Leonardo DiCaprio drama The Wolf of Wall Street, Ben Stiller's The Secret Life of Walter Mitty and Keanu Reeves' 47 Ronin are among the films to open on Wednesday.