Q&A: Theatre safety in the West End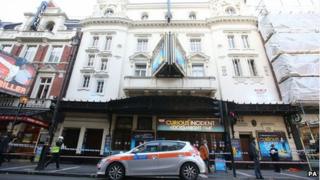 After a partial collapse of the ceiling during a show at the Apollo theatre on Shaftesbury Avenue in London, West End theatre owners have reassured audiences all venues have valid safety certificates.
What is required to get these certificates, and who is responsible for the safety inspections?
Q. Who is in charge of checking theatre safety?
A. Venue owners or managers are responsible for having different parts of the building - from the ceiling plasterwork to the electrics to the ventilation - checked by specialists.
The specialist contractors issue safety certificates for those things, just as you may get a certificate for gas or electrical safety at home. The local council then checks the certificates are in place in order to comply with the venue's licence.
Q. How often do councils check up on venues?
A. It depends on the council and the venue, according to Julia Sawyer from JS Safety Consultancy. Checks used to be carried out annually until a new licensing law came into effect in 2003.
"If a venue's had complaints or they feel a venue isn't complying properly, they will make more visits," Ms Sawyer said. "Or they will do less visits if everything seems to be OK."
Q. What checks are made on plasterwork?
A. The handbook used by venues and councils, titled Technical Standards for Places of Entertainment, says: "Any suspended ceilings and ornamental plasterwork should be regularly inspected both for water and also excessive noise or vibration damage."
Robin Townley of the Association of British Theatre Technicians, which compiled the handbook, said: "They are the three anticipated causes of changes in such structures that might start to render them unsound." The handbook goes on to recommend a new certificate should be obtained every 12 months.
Q. So West End theatres have their ceilings checked every year?
A. Not necessarily. A spokesman for Westminster City Council, which covers the West End, said it requires venues to have their ceilings checked every three years rather than every 12 months.
Q. How are those checks carried out?
A. Jenny Harrison of ceiling repair and inspection firm Hayles and Howe, which work at many theatres across the UK (although not the Apollo), said: "First of all we'd get in behind the ceiling and have a look at it. We'd check for any build-up on the back of the ceiling.
"You get quite a bit of dust so we clean them off regularly. If there's any sign of water damage then we suggest that the roof is checked."
Q. What else has to be regularly checked?
A. The Technical Standards handbook lists items requiring certificates including structural stability, fire alarms, emergency phones, automatic door closure devices, lifts, lasers and smoke machines.
Q. Will that guarantee a theatre is safe?
A. Hopefully. But the Apollo's last ceiling inspection took place just three months before the accident, on 16 September.
Compiled by BBC News arts and entertainment reporter Ian Youngs.