Doctor Who's Orla Brady: 'I'm good at secrets'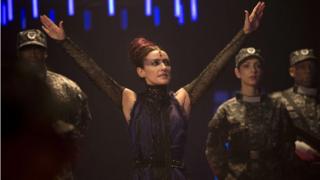 Matt Smith leaves Doctor Who on Christmas Day after four years as the Time Lord. Viewers will see Peter Capaldi take charge of the Tardis in a story called The Time Of The Doctor.
The story introduces a new character Tasha Lem - an old friend of the Doctor, played by Orla Brady.
In this Q&A, the Irish actress talks about the sadness on set surrounding Smith's departure and reveals how she copes with the secrecy that surrounds the show.
So who is Tasha Lem?
Tasha Lem is an old friend of the Doctor's. She has worked her way up through her organisation, the Papal Mainframe. We haven't met her before, but we have met her troops. She's like the head of the galactic UN - but much more war-like.
I always meant to ask Steven Moffat if he was referencing Stanislaw Lem, who wrote Solaris. I wondered if it was a nod to this father of sci-fi.
What was it like to get the call to be in the Christmas episode?
I was in my dressing room in Belgium making a film and I got this call saying we'd love you to be in the Christmas Doctor Who. I just smiled because there is no downside to Doctor Who.
I said 'I can't read it right now but it's a yes.' And my agent said, 'Are you sure you don't want to read it first?' I thought it'll probably be a cyborg's bottom or frogspawn that speaks or a talking bus - who knows?
How would you describe this Christmas and regeneration story?
This story is not as epic as the 50th, this is a more personal story.
It manages to weave together the inevitable sadness we have of leaving a much-loved Doctor with a feeling of hope and joy.
Christmas can be quite sad, can't it? Your set of expectations are very high and they're frequently not achieved. There's a bit of hothouse around Christmas and emotion runs high - so this story somehow seems perfect.
What was the atmosphere like on set with Matt Smith making his final appearance with Jenna Coleman?
You could see a certain sadness with them doing things for the last time. I think lovely Jenna Coleman [who plays companion Clara] was sad because they have a beautiful working relationship. Although she's looking forward to the next series [with Peter Capaldi] there's an inevitable sadness about it.
How much time did you get to spend with Peter Capaldi?
We'd worked together on the 1997 Christmas special of The Vicar of Dibley - so it was lovely to see him again.
Over the years I've watched him be rather brilliant. The Thick of It is one of my favourite shows of all time.
Were you surprised to glimpse Peter Capaldi's eyes in the 50th anniversary episode last month?
Funnily enough, they were shooting a little something [while making the Christmas episode] and I remember thinking that's not the scene where he appears as the new Doctor - so that must have been it!
How do you cope with the secrecy that surrounds the show?
I'm good at secrets. The only way to keep a secret is to keep a secret. You don't tell one person and say 'don't tell anyone'. You just tell no-one. I'm quite good at that.
If someone tells me something - and believe me I've heard some rocking gossip - it stays just with me.
I do not want to be the one, especially for a show like this, to throw in a spoiler.
How much did you know about Doctor Who?
When I was offered Doctor Who I'd never seen the rebooted version. I'd only ever seen the ones I remember as a child.
I did a lot of DVD watching to catch up - and now I'm a huge fan. I'm a total nerd.
What do you think Peter Capaldi will bring to the character of the Doctor?
I just know he will rock in the part. He's got stature and a fearsomeness, and he's also got this twinkle.
He can play mercurial characters very well. He's got it all going on and a lot of actors can't hit all those spots. I'm so looking forward to seeing what he does.
The Time of the Doctor is on BBC One at 7.30pm on Christmas Day