Stephen Ward: Lloyd Webber 'proud' as new musical opens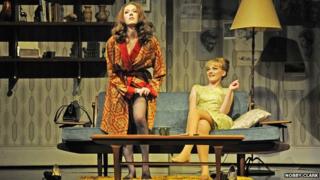 Andrew Lloyd Webber's new musical Stephen Ward, about a 1960s sex and spies scandal, has opened in the West End to a mixed reception.
Joining the cast on stage at the curtain call, Lord Lloyd-Webber told the celebrity-filled audience: "I'm very proud of this show."
One critic praised the "instantly catchy" songs while another found them "below-par".
The show is booking at the Aldwych Theatre until 1 March 2014.
The opening night audience included Dame Judi Dench, Elaine Paige, Arlene Phillips, James Corden, Jimmy Carr and film director Tom Hooper.
Stephen Ward, an osteopath and socialite, was instrumental in the Profumo sex scandal, which threatened to topple the Conservative government in 1963.
Put on trial for living off immoral earnings, Ward took an overdose of tablets and died three days after being found guilty.
"This was an iconic moment of the 1960s," director Sir Richard Eyre told the BBC on opening night. "It's the watershed between a repressive Puritanism and an explosive political and sexual liberalism.
"I know it was 50 years ago, but if you look at events where the conspiracy of the press, the police and politics come together you have to ask 'how much has changed in the last 50 years?'"
The show presents Ward, played by Alexander Hanson, as the victim of a gross miscarriage of justice.
It begins with him as a waxwork in the chamber of horrors at Blackpool's Madame Tussauds - stood next to Adolf Hitler.
The Telegraph's Charles Spencer said Andrew Lloyd Webber's musical had "delightful tunes, winning performances and an unexpected dash of mischief".
"My hunch is that those who like Lloyd Webber best when he's doomy-gloomy won't warm to this show, but that those who have previously found him overwrought will find this sharp, funny - and, at times, genuinely touching - musical highly enjoyable."
He said also praised Hanson's "superb" Ward and the performances of Charlotte Spencer as showgirl Christine Keeler and Charlotte Blackledge as Mandy Rice-Davies.
Ms Rice-Davies, one of the witnesses in the Stephen Ward trial, has been an adviser on the production, and attended on opening night.
The Guardian's Michael Billington said the show "undeniably belonged" to Hanson, adding: "It is not his fault if we feel that this story of the breaking of a social butterfly on a wheel needs a melodic astringency that is not exactly Lloyd Webber's forte."
The Independent's Paul Taylor said Lloyd Webber's "eclectic score has its witty touches and the odd surge of poignancy".
But Variety's David Benedict wondered how the fallout from Britain's most notorious sex-and-politics scandal could have been "turned into something so flaccid?"
He said: "The cast do their level best and sing well but neither the meandering, below-par songs nor the slack storytelling create tension.
"Prior to opening, there was much internet chatter about the undramatic nature of the title. Sadly, lack of drama turns out to be the hallmark of the show."