Ryan O'Neal awarded Andy Warhol's Farrah Fawcett portrait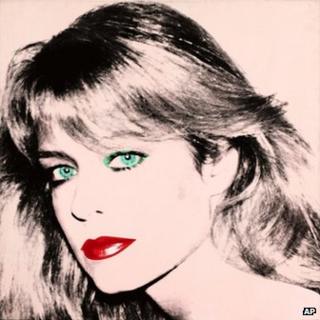 A California jury has decided an Andy Warhol portrait of actress Farrah Fawcett belongs to actor Ryan O'Neal.
The University of Texas at Austin had sued O'Neal, claiming Fawcett left them the painting as part of a donation. Fawcett, who died in 2009 aged 62, attended the university in the 1960s.
O'Neal, 72, had an 18-year relationship with Fawcett and removed the painting from her home after her death.
He said the portrait was a treasured memento of their relationship.
The portrait is one of a pair created by Warhol in 1980, when he took Polaroid photos of the actress and added splashes of colour to a monochrome canvas.
One version is currently on display at the university's Blanton Museum of Art in Austin, while O'Neal has hung the other over the bed at his Malibu beach house.
The university launched its legal case in 2011 after the portrait was spotted in the actor's home during an episode of reality TV show Ryan and Tatum: The O'Neals.
University lawyer David Beck had urged jurors to give the school the portrait in accordance with Fawcett's wishes.
They showed footage from Fawcett's reality show and an interview segment on the news programme 20/20 documenting the painting's creation. Mr O'Neil was not visible in either video.
"You've seen Farrah. You've heard from Farrah," Mr Beck said on Monday during closing arguments. "Please, please, speak for her."
He had also questioned whether the actor had ever discussed removing the portrait with anyone, including a trustee charged with carrying out Fawcett's final wishes.
O'Neal, who removed the portrait outside her bedroom, said: "Of course I did. I'm sure I did. It wasn't a secret."
He told jurors that if he is allowed to keep the Warhol portrait, he will never sell it, and that his estate documents call for it to be passed down to Redmond O'Neal.
Though Fawcett reportedly left nothing to her companion of nearly two decades, Mr O'Neal argued the portrait was one of his closest remaining connections to her.
"I talk to it," O'Neal testified last week. "I talk to her. It's her presence. Her presence in my life. In her son's life."