Louisiana Gov Bobby Jindal defends Duck Dynasty star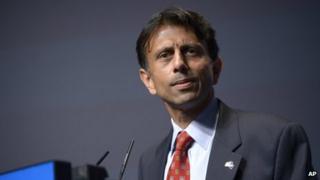 Louisiana Governor Bobby Jindal has come to the defence of a reality TV star suspended for derogatory remarks he made about homosexuality.
Phil Robertson, who appears in the show Duck Dynasty, was asked to describe sin by a magazine, and said: "Start with homosexual behaviour and just morph out from there."
The A&E television network later said it was "extremely disappointed".
But in a statement, Gov Jindal said it was a "messed-up situation".
Gov Jindal pointed out that Robertson was suspended while "Miley Cyrus gets a laugh", referring to a US pop star's raunchy performances.
'Personal beliefs'
Robertson's show takes place in Ouachita Parish, located in Gov Jindal's home state.
Now in its fourth series, the programme has broken several ratings records on both A&E and cable television as a whole, with the fourth season premiere drawing 11.8 million viewers.
It follows the lives of the Robertsons, a family with old-fashioned values who live together in Louisiana, running their multi-million dollar family business, Duck Commander - which makes products for duck hunters.
Interviewed for the January issue of GQ, Robertson said he could not understand why a man would choose to sleep with another man, instead of a woman.
"There's more there! She's got more to offer. I mean, come on, dudes! You know what I'm saying?" he was quoted as telling GQ. "But hey, sin: it's not logical, my man. It's just not logical".
Pressed to give his own definition of sin, he first suggested homosexuality, then added: "Bestiality, sleeping around with this woman and that woman and that woman and those men."
"Don't be deceived," he continued. "Neither the adulterers, the idolaters, the male prostitutes, the homosexual offenders, the greedy, the drunkards, the slanderers, the swindlers - they won't inherit the kingdom of God."
A&E later said the comments reflected Robertson's "personal beliefs" and "in no way reflect those of A&E". The network placed him "under hiatus from filming indefinitely".
The Gay And Lesbian Alliance Against Defamation's spokesman Wilson Cruz said: "By taking quick action and removing Robertson from future filming, A&E has sent a strong message that discrimination is neither a Christian nor an American value."
Robertson released his own statement through the network calling himself "a product of the 60s".
"I centred my life around sex, drugs and rock and roll until I hit rock bottom and accepted Jesus as my Saviour.
"My mission today is to go forth and tell people about why I follow Christ and also what the Bible teaches, and part of that teaching is that women and men are meant to be together."
Former US vice-presidential candidate Sarah Palin defended Robertson, tweeting: "Free speech is endangered species; those 'intolerants' hatin' & taking on Duck Dynasty patriarch for voicing personal opinion take on us all."