Steps star Ian H Watkins gets court apology over photo error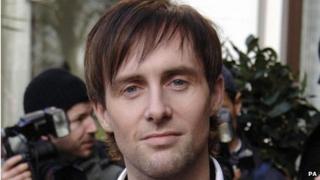 Former Steps member Ian 'H' Watkins has received a public apology after his photo was used on a website reporting on the Ian Watkins abuse case.
E! Entertainment Television apologised for using a picture of the pop star to illustrate a story about Lostprophets singer Ian Watkins on E! Online.
The US company's solicitor expressed regret for the "distress and damage" the photo's publication had caused.
Ian Watkins was sentenced to 35 years this week for 13 child sex offences.
The rock singer, 36, from Pontypridd, was jailed for 29 years and will spend a further six years on licence.
A judge at the High Court in London heard that 'H' had already been "receiving abuse" from people who confused him with his namesake before the error was made .
As well as having the same name as the Lostprophets singer, the judge was told, both men are of similar age and originally come from Wales.
In a statement issued on Thursday, the Steps singer said: "In Court this morning E! have publicly apologised to me and a statement has been read in court to make the position clear.
"This was not something that I did lightly but it was important to me that a public statement was made so that there is no confusion going forward.
"I am really pleased that it has been resolved so quickly so that me and my family can try and move on from what has been an extremely distressing time."
Ian 'H' Watkins had a string of hits while part of the chart-topping five-piece Steps, among them Tragedy, Better Best Forgotten and 5,6,7,8.
Since leaving the group he has been seen on stage in Joseph and the Technicolor Dreamcoat and on TV in the 2007 series of Celebrity Big Brother.