Angel Haze leaks own album online in dispute with label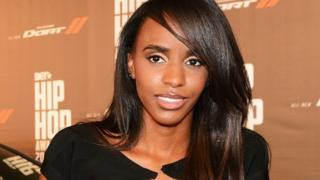 Detroit rapper Angel Haze has leaked her own debut album, which she said was ready months ago, in a dispute with her record label over its delayed release.
She posted the album on Soundcloud - although it has now been taken down - accompanied by a string of expletive-laden posts on Twitter.
Her label has now confirmed it will bring the digital release forward to 30 December after she "forced" its hand.
Haze came third in the BBC's Sound of 2013 in January.
She is the only top five artist of the poll yet to release an album and had been hoping her debut would be released by the end of the year.
However her UK label, Island Records, recently announced Dirty Gold would not be released until 3 March 2014.
Haze posted the album with the accompanying tweet: "Since they don't want to put it out this year, I will. Here's the album. HERE IS DIRTY GOLD. I hope you all enjoy it."
She followed the 12 tracks with the words: "My labels didn't think that I would do it, but I did. It's hard to put at risk everything I've spent this year working on but I had to."
'Frustration and upset'
Several hours later it appeared both her UK and US music labels had backed down, as the rapper posted Dirty Gold would now be released on 30 December, adding: "Thank you all. Night."
A statement from Island Records followed, saying: "Expressing frustration and upset about not being able to get her album out to fans in 2013 as previously promised, Angel Haze took matters into her own hands leaking the record via Twitter."
"Haze's actions have forced her label's hand who've since announced they will make the digital version of Dirty Gold available."
The label also confirmed it was starting work towards a physical release of the album, which is now due early next year as it could not be manufactured by the end of the month.
It added Haze "wasn't comfortable" with plans to release the album in 2014: "She figured the record's ready, she's really proud and wants to get it out there as soon as possible."
'My dreams'
In her Twitter rant, Haze said she was leaking the album for her fans and herself.
"I did everything I could for you. I did not promise an album and not deliver," she wrote.
"I'm sorry if I seem angry. But these are my dreams. The only thing I have in my life. Imagine having the only reason you're alive being the very thing straining your existence."
"I got here doing this for my fans and if you guys don't feel the same, it won't stop me... They will get the music they were promised."
Earlier this year the rapper, whose real name is Raykeea Wilson, announced she was postponing her debut UK tour from February to May to finish work on the album.
She previously released two mixtapes online in 2011 - Reservation and Classick - and also appeared on Rudimental track Hell Could Freeze.
Not a stunt
Music Week editor Tim Inghams said it would not be "plain sailing" for the label now, which would have to adjust it's marketing and promotional plans for the album.
"As Beyonce has shown the world this month with her 'surprise' iTunes-exclusive launch, record release plans are flexible things," he told the BBC.
However Inghams said it was unlikely the leak was a publicity stunt.
"It's not in a record company's nature to give whole products away for free like Angel Haze did in this case," he said.
"Even though it wasn't part of Island's own plan, they may yet see a benefit: most of the early online fan reviews of the album have been very positive."
He added: "Now it's unavailable again, Island find themselves in the enviable position of seeing huge anticipation for an album once again under their control."
The album has been produced in collaboration with Markus Dravs, who has worked with Bjork, Arcade Fire and Coldplay.
Frank Ocean producer Mele and Mike Dean who has worked with Kanye West are also credited, while Grammy-nominated singer-songwriter Sia features on the track Battle Cry.