The Hobbit sequel tops UK box office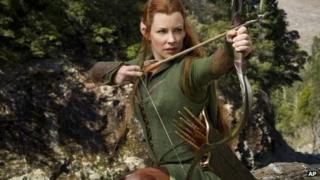 The second instalment in the big screen Hobbit adaptation, The Desolation of Smaug, has topped the UK box office.
The Peter Jackson film - starring Martin Freeman - is currently number one on both sides of the Atlantic.
The movie, which received mixed reviews from critics, took £9.3m in its opening week - twice its nearest rival, animated tale Frozen, which took £4.2m.
Hunger Games sequel Catching Fire, Gravity and Saving Mr Banks round out the top five.
The only new entry in the top 10 was the Met Opera's production of Falstaff, Verdi's final opera, conducted by James Levine.
The opera, part of the 2013-2014 season, was transmitted live from the New York opera house, and shown later as recorded 'encores'. It grossed just under £225,000.
The sequel to the Hunger Games continues to do impressive business at the box office, taking a total of £28.8m in four weeks and easily surpassing the performance of the first film in the UK.
The second outing sees Jennifer Lawrence reprise her role as Katniss Everdeen, a successful contestant in a fight-to-the-death reality television show.
Gravity, which remains in the top five for a sixth week, may have benefitted from recent nominations at the Golden Globes and the Screen Actors Guild Awards, where it was among the contenders for best film drama and best actress, for Sandra Bullock.
Other films to grace the latest box office top 10 include Jason Statham drama Homefront, time-travelling turkey cartoon Free Birds and The Butler.
Horror remake Carrie completes the top 10.