Walking Dead creator sues TV network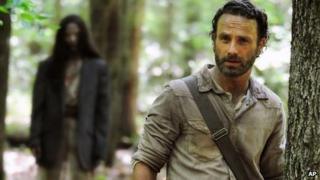 Walking Dead creator Frank Darabont is suing US TV network AMC, claiming he is owed "tens of millions of dollars".
Darabont contends he was abruptly sacked from the hit zombie show ahead of its second series to avoid paying him an increased profit share.
The complaint was filed at New York Supreme Court earlier this week.
It claims AMC made a favourable licensing deal with its own affiliate to distribute the show, "designed to ensure" Darbont received no profits.
AMC have yet to comment on the claims.
"Darabont is being deprived of tens of millions of dollars in profits, despite delivering to AMC the most popular show on all of television and the most popular show in the history of cable," state documents filed as part of the the legal action.
Court papers assert that Darabont and his agents at Creative Artists Agency - which is also suing AMC - have not received one dollar from his promised profit participation in the series.
'Self-dealing'
The drama is currently in its fourth series, with a fifth already in the pipeline. Each episode draws an averageof 13 million viewers, making it one of the top-rated cable shows on US television.
AMC both produces and airs the series.
Lawyers for Darabont claim AMC pays an artificially low licensing fee to the AMC affiliate which produces the show, meaning the series ran at a loss for many years - a practice known as "self-dealing".
Licence fees are supposed to be agreed between producers and distributors based on the market value of the series.
Creators and producers of shows such as Smallville and The X Files have both sued over "self-dealing" in the past.
According to the complaint, AMC set a licence fee rate of $1.45 million per episode, with an increase of 5% per season, far less than what it costs to produce the show, meaning there was no profit to share with the talent.
As a result the show was running at a loss of $49 million, two years after in premiered in October 2010.
Darabont was forced off the series in 2011, amid an ongoing dispute over his profit share.
"AMC's conduct toward Frank to date has been nothing short of atrocious," Darbont's lead lawyer Dale Kinsella told the Hollywood Reporter.
Darabont and CAA claim they are entitled to more than 20% of the profit from The Walking Dead.
It is also alleged that Darabont had been wrongly fired from the series and is entitled compensation and credit from spin-off show Talking Dead.