Jennifer Lawrence: weight comments 'should be illegal'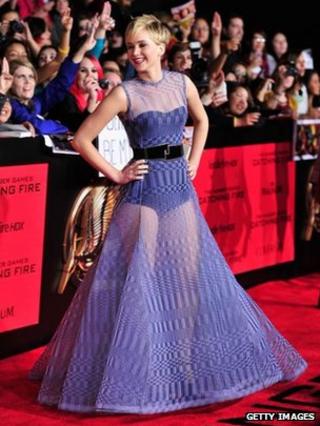 Actress Jennifer Lawrence has said she thinks "it should be illegal to call someone fat on TV", after red carpet criticism of her own figure.
Speaking to US host Barbara Walters, The Hunger Games star added: "Because why is humiliating people funny?"
The 23 year-old actress, who plays Katniss Everdeen in the teen franchise, said she was worried about how the media's attitude affected young people.
Lawrence features in Walters' series The 10 Most Fascinating People of 2013.
"I get it, and I do it too, we all do it," the actress told Walters.
"[But] the media needs to take responsibility for the effect that it has on our younger generation, on these girls who are watching these television shows, and picking up how to talk and how to be cool," Lawrence said.
"So all of the sudden being funny is making fun of the girl that's wearing an ugly dress. And the word fat! I just think it should be illegal to call somebody fat on TV."
Lawrence added: "I mean, if we're regulating cigarettes and sex and cuss words, because of the effect they have on our younger generation, why aren't we regulating things like calling people fat?"
The film actress, who won an Oscar earlier this year for her performance in Silver Linings Playbook, has previously spoken out against gossip magazines and TV shows such as E!'s Fashion Police, presented by Joan Rivers, which criticise the way women look.
Last month the American Hustle star told BBC Radio 1 that hearing negative things about her appearance "was like being in high school".
Her own figure became the subject of much debate, after being branded "fuller" by industry standards.
She told the December 2012 issue of Elle magazine that "in Hollywood, I'm obese. I'm considered a fat actress".
Walters' full interview with Lawrence will be broadcast on Wednesday night in the US as part of the ABC News special Barbara Walters Presents: The 10 Most Fascinating People of 2013.
Her list includes singer Miley Cyrus, Edward Snowden and Kanye West and Kim Kardashian, otherwise known as KimYe.
Prince George, the Duke and Duchess of Cambridge's baby son, also appears on the list.