Sheridan Smith to star in C4 comedy pilot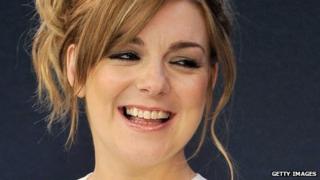 Sheridan Smith is to star in a new comedy pilot for Channel 4 to be aired next year.
The 32-year-old will appear in Flack, about a woman struggling to keep her life on track while dealing with the messed up lives of her PR clients.
It is one of three new pilots the channel has commissioned for the new year.
Sharon Horgan will write and star in Catastrophe, while David Baddiel will write and direct Sit.com.
Catastrophe will feature Pulling actress Horgan star opposite US Twitter comic Rob Delaney in a comedy about an Irish woman and American man "who struggle to fall in love in London".
Sit.com is billed as a traditional family sitcom framed by the distractions of the modern technological era.
"The latest batch of pilots spring from a set of witty, clever, knowing scripts that reflect the complexity of modern life," Channel 4's head of comedy Phil Clarke said.
"Flack deals with the world of work; Sit.com, family; and Catastrophe maintaining a relationship. They represent a strand of comedy that I would like to expand on the channel."
Many shows which have premiered in Channel 4's annual round of comedy pilots have subsequently been commissioned as full series - including Ricky Gervais' Derek, and Caitlin Moran's Raised By Wolves.
Other comedy series returning to the channel next year include The Midnight Feast, Friday Night Dinner and Cardinal Burns.
Channel 4 also confirmed it would be screening the second series of US drama Masters of Sex, starring Michael Sheen.
The first episode of the show - about sexual revolution pioneers William Masters and Virginia Johnson - was watched by 1.89 million viewers. However, ratings have declined over the series with last week's episode watched by 798,100 people.
The season one finale is due to be broadcast on Tuesday. A date has yet to be set for the premiere of the second series.