Dinosaurs stomp on to big screen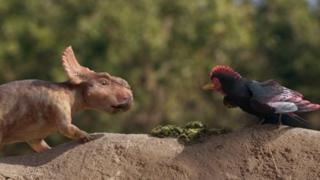 This Friday, Walking with Dinosaurs will roar on to the big screen, 14 years after the groundbreaking BBC television series of the same name was first broadcast.
In a marked change of direction, the 3D film will join together state-of-the art animation and CGI with a fully scripted coming-of-age storyline about a little dinosaur called Patchi.
Neil Nightingale, creative director of BBC Earth, which is behind the project, has directed the film alongside animator Barry Cook, who made Disney's Mulan and co-directed Arthur Christmas.
The huge success of the TV series and the subsequent long-running world arena show "has kept the name Walking with Dinosaurs alive... it's one of the reasons we were able to come back to it," explains Nightingale.
"The TV series broke new ground, so when we were thinking of bringing the brand back and how we could... take it to the next step, it seemed there was only one way to go to make it bigger and better.
"And that was to do a film for the cinema in 3D. The idea is to transport people back to that time 70 million years ago."
Directing a feature film of this type was new territory for Nightingale but he describes it as an "amazing experience".
"I was bringing storytelling from natural history and a great knowledge of wildlife and Barry and I complemented each other really well because we came from such different backgrounds and have created something utterly unique. Nothing in this format has ever been done before.
"The animation is so brilliant that hopefully audiences will completely forget it's animation, you'll just believe those are real animals and characters you'll engage with."
But there was a challenge in marrying the factual, serious element of natural history with a light-hearted storyline ideal for a family film.
'Forensic science'
Nightingale says he had to take a different approach.
"You have to think about the media you're making the content for - for the cinema you've got to have a wonderfully entertaining story and great characters. People want to be entertained. The thing I most wanted to achieve was to have a whole new generation of kids fall in love with dinosaurs."
But the seasoned TV executive is keen to ensure that children walk away with more than just an empty box of popcorn when they leave the cinema.
"The whole film is inspired by what we know about dinosaurs, the latest scientific discoveries - there's so much to learn in there as well. It's a real world that truly existed. The way they (the dinosaurs) moved, living in a herd migration - it's the most wonderful blend of an entertaining story that's underpinned by a lot of science."
The creative team used palaeontologists to ensure the dinosaurs - which included the troodon species and a relative of the Tyrannosaurus rex, the Gorgosaurus - looked as realistic as possible.
"You really believe they're real animals. We went to a huge amount of effort to do that and one of the reasons they feel real is that every one of the characters is based on the fossils and we built it up from that - we put the muscles on the flesh, then the skin and so on, and went backwards and forwards with palaeontologists," says Nightingale.
"Palaeontology is a bit like forensic science - when you're looking at a murder scene it's a day, a week, a month old. Here, you're looking at a murder scene that is 70 million years old. For palaeontologists, all the information doesn't exist. For a film-maker, that's wonderful - we've got things we know and a wonderful creative space of things we don't know."
Time has moved on since the programme first aired in 1999 and new knowledge of dinosaurs has come to light, along with technological advances.
"One big breakthrough is now knowing that many dinosaurs were feathered - so we have feathered dinosaurs. Birds are direct descendants from dinosaurs and there were birds around 70 million years ago.
"I think we've pushed it on much, much further with technology but also the budget of a feature film has enabled us to... (make) you believe you're there, immersed in this amazing world with amazing creatures," says Nightingale.
'Spectacular creatures'
The director is pleased with the results.
"Judging from the screenings and the premiere we had in Leicester Square, there were loads of kids there, and they all came out absolutely loving it."
So what is it that fuels our seemingly unending fascination with these prehistoric creatures?
Nightingale turns the question on its head.
"Why would we not be (fascinated with them)? The earth has been in existence for about four and a half billion years and these are quite simply the most spectacular creatures to have lived on planet earth of all time. They're monsters and kids are a bit scared of them but because they're extinct, they're not going to come round a corner and eat you - you have permission to be scared."
Nightingale won't be drawn on whether a sequel is in the pipeline but will admit "we've got lots of great ideas lined up".
"At BBC Earth, we're moving into all kinds of areas. Audiences want great content in all kinds of different ways because people love nature, people love dinosaurs. They should be able to get it wherever they are."
Walking with Dinosaurs 3D is released in the UK on 20 December.