Jingle sells: The lure of the Christmas album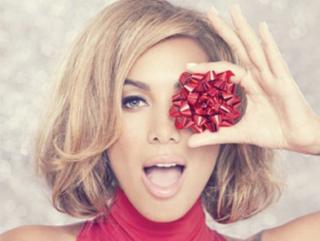 Classics from The Pogues, Mariah Carey and Wizzard are all back in the charts this Christmas, so do we really need any more festive music? Leona Lewis, Kelly Clarkson and Mary J Blige are just some of the acts that think so.
"It seems to have been a bit of a bumper year for Christmas albums," says Martin Talbot, chief executive of the Official Charts Company, after looking through 2013's unusually long list of the artists vying to soundtrack our present unwrapping.
It features former Britain's Got Talent stars Susan Boyle and Richard & Adam, Leona Lewis, US stars Kelly Clarkson and Mary J Blige and '80s favourite Kim Wilde.
"Artists seem to be recognising the value of having a good old Christmas hit," Talbot says.
"But if you can get a record that really connects with the public, it's a nice longstanding, recurrent hit that you can achieve year after year."
He's not wrong, and just this week The Pogues' Fairytale of New York, Wham's Last Christmas and Mariah Carey's All I Want For Christmas made it into the top 40.
In fact, earlier this week Carey's now "classic" Christmas hit passed the one million sales mark, 20 years after narrowly missing out on the Christmas number one to East 17's Stay Another Day.
"Lots of these recurrent tracks are selling 80,000, 90,000 or 100,000 copies every year," Talbot says.
"That's decent business for doing actually pretty much nothing."
But it does all seem a bit bah humbug to assume artists are doing it for the money, when most of them insist it is because they simply love Christmas.
"I'm a huge fan of Christmas in general, so obviously Christmas music comes with that," Leona Lewis says.
She was "really heavily influenced" by Phil Spector's 1963 album A Christmas Gift for You, of which she is a "huge fan".
"I'd wanted to do a Christmas album for ages and Simon Cowell was quite keen on me doing one as well. And because it's all kind of a Motown style it was something exciting and different for me to do," she adds.
So far the difference has paid off for Lewis. Her album Christmas, With Love has been sitting nicely at number 13 (six in the iTunes chart) with her standout track One More Sleep at number three - also landing her a chart record as the first British female solo artist to score eight top five singles.
A Christmas classic
Lewis is happy at the suggestion the track could even do "a Mariah".
"I think any musician or singer would love any of their songs to become classic," she says.
"Especially now when music is just so downloadable, fast-paced, hear it for a week and then you're like 'ok, next'.
"It used to be records were cherished and they became classics, so if it did that would be just incredible - that would be a highlight of my whole career."
There are some more traditional-sounding tracks on Lewis' album - like O Holy Night, an operatic Ave Maria, and Your Hallelujah, a "comforting song" which she was inspired to write by the death of her grandma.
However One More Sleep's secret ingredient is "literally just joy, happiness, soulfulness, I think that's what goes into a good Christmas song".
The new songs on Clarkson's "first Christmas album" Wrapped in Red - such as Underneath the Tree - have already been confidently billed as "new classics" on her own cover.
White Christmas and Silent Night were "no brainers" when it came to choosing the covers according to Clarkson, who also admitted in a recent Twitter Q & A with fans, "I've thought about this Christmas album for half of my life!".
It proved a hit in the US, landing at number three in this week's Billboard 200, but British fans - not so much. It has only managed number 65 in the UK album chart so far.
The traditional route
Fellow US star Blige's cleverly-titled A Mary Christmas is bursting with roasting chestnuts, Rudolph and little drummer boys.
Her sentimental take on yuletide classics includes duets with Jessie J (Do You Hear What I Hear?) and Barbra Streisand (When You Wish Upon A Star), and was inspired by her memories of growing up in a housing project in Yonkers, New York.
"It was the happiest time for us," Blige told BBC Radio 4's Front Row. "It was not a cool environment. Christmas was a time that made everyone cheer up, it really did and that's why it means so much to me."
Unsurprisingly both Boyle's Home for Christmas, which peaked at number nine, and fellow Britain's Got Talent contenders Richard and Adam Johnson (number 24) also take a more traditional route.
The Welsh brothers had a number one album for four weeks this summer with The Impossible Dream - which means they can "buy better presents for people" this year.
They are "very, very into Christmas as a family", according to Richard, and their years spent listening to Frank Sinatra, Mario Lanza, Bing Crosby and Christmas carols have informed the time-honoured festive hits on The Christmas Album - not to mention their Nan who drew them up a list.
The Buble effect
This week the iTunes album chart has been swimming with Christmas albums, with the Now That's What I Call Christmas compilation dominating the top spot.
Michael Buble ("Christmas to a T", according to Richard and Adam) has also cashed in on 2013's festive season with a special deluxe edition of his 2011 album, Christmas.
At the time of writing he was at number three in the iTunes chart, higher than any of this year's releases.
In fact it was "swooning" to Buble's album last year that led Kim Wilde to think "I've got something I can bring to the table here" and get to work on her Wilde Winter Songbook.
It features Winter Wonderland with fellow 80s legend Rick Astley and Fleet Foxes' White Winter Hymnal, complete with vocal harmonies from her dad, brother and niece.
"I'm not saying I'm trying to compete with Michael Buble, but I've got my own personal passion for Christmas that I think is worth sharing," she says.
That "passion" was evident last Christmas when Wilde and her brother took a now infamous tube journey in a state of "over-refreshment" and starting singing to fellow commuters.
The YouTube video has now had more than two million hits, and although it did initially cause embarrassment - "A woman of my years, making a spectacle of myself on a train with antlers on her head and singing songs that no one really seems to want to listen to, didn't seem in my mind a recipe for success" - it also spurred her on to make this record.
Wilde is now so over it, she even hired a train to recreate the whole episode for the video for Rockin' Around the Christmas Tree with Nik Kershaw.
So will the artists in question be listening to their own versions this Christmas?
Lewis - a "passive observer" when it comes to preparing the Christmas dinner - admitted her dad would probably "slip a few of mine in" with his records - "especially White Christmas because that's his favourite one I've done".
Richard and Adam's approach sounds the most fun though: "Nan will have it blasting top whack in the house on Christmas morning, when all the presents are getting opened and during Christmas dinner.
"And then she'll probably give us a microphone each and we'll do a live rendition of the whole album. The usual stuff."