Ticket booking fees 'too expensive'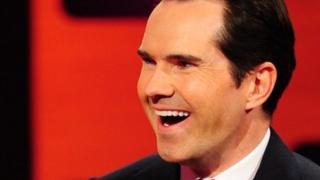 A majority of audiences say booking fees for concert and theatre tickets are too expensive and any extra charges should be revealed up front.
Half of consumers questioned by Which? said additional charges on tickets had put them off booking altogether.
Their research uncovered a £25 ticket to see comic Jimmy Carr incurred extra fees of £9.50.
The organisation is launching a Play Fair On Ticket Fees campaign to end hidden charges.
It is also calling for any fees to be justified, clearly explained and set at a fair level.
'Ripped off'
Which? found that, out of 20 ticketing companies and venues surveyed, seven did not openly reveal the cost of extra fees, making shopping around for tickets more difficult.
Other complaints included being charged to print tickets at home or collect them from venue box offices, with more than 90% of people objecting to the added cost.
Researchers for Which? found out of 78 individual bookings, only two were made without incurring any additional charges.
"Consumers tell us they are feeling ripped off by the level of ticketing charges, and the lack of transparency means it is almost impossible for people to compare prices when booking online," said Which? executive director Richard Lloyd.
"We want to see the ticketing industry Play Fair On Ticket Fees, so that all charges are displayed upfront and with a clear explanation of what they're for," he added.
Ticketmaster, which is the world's biggest ticketing company, explains how fees are calculated on its website, saying the costs are "agreed in consultation with our client" - usually the concert promoter.
Fees contribute to "retail and distribution costs" and the technology that underpins its systems.
The company says print-at-home tickets incur a fee as the company has to provide "access control systems to check the tickets" at venues.
See Tickets adds most event organisers "don't pay us anything to sell their tickets, so in order to make money, See has to charge a little bit on top".
Which? said companies which fail to display compulsory charges were in breach of Advertising Standards Authority regulations and unfair trading regulations.