The Kinks: Musical to tell Ray Davies' early life story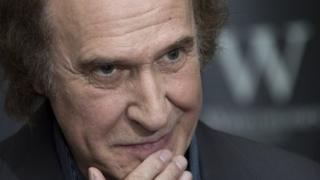 A stage musical telling the early life story of Kinks frontman Ray Davies is set to open at London's Hampstead Theatre next year.
Sunny Afternoon will feature the band's hits, penned by Davies, and a script by award-winning playwright Joe Penhall.
The show will also chart the band's rise to stardom during the 1960s and is named after their 1966 hit single.
The Kinks' numerous other hit songs include Waterloo Sunset, Lola and You Really Got Me.
Casting details for the new show have yet to be announced, or whether Davies will take an on-stage role.
Davies has previously created a stage musical based around his music, called Come Dancing, which he wrote himself and appeared in.
The show was premiered at the Theatre Royal in Stratford, east London in 2008, but a nationwide tour of the show a year later failed to materialise.
The band was formed by Davies with his brother Dave in north London in 1964.
They were considered part of the British musical invasion of the US, scoring five top 10 singles.
The group performed for the last time in public in 1996 amid reports of a rift between the Davies brothers. The pair went on to pursue solo careers.
Davies hinted earlier this year that The Kinks would consider a reunion to mark their 50th anniversary next year, and said that new material could be written to mark the occasion.