Call the Midwife Christmas special: WW2 bomb causes chaos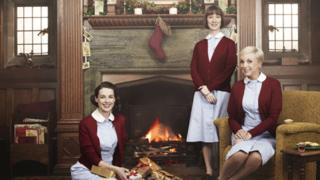 The Call the Midwife Christmas special is already being dubbed a perennial favourite in the TV listings - up there with EastEnders and Doctor Who - so it may be surprising to find this will be only its second festive outing.
Based on Jennifer Worth's memoirs of her time as a nurse in 1950s London, the show - which is about to head into its third series - centres on life at the Nonnatus House order and the nuns and midwives who work side-by-side.
Having already exhausted all of the late author's original stories, the drama is now being penned by series creator Heidi Thomas.
The Christmas episode promises to be a tearful affair but avoids the shock value of last year's Downton Abbey Christmas special, which saw the death of one of its main characters, and led to accusations of sensationalism.
"It's just a beautifully crafted story," says Helen George, who plays the glamorous yet feisty Trixie.
"There is the emphasis on birth and birthing, but it is about relationships of the families and the community as well, which is so touching and emotive in its own essence there's no need to shove a death in for shock value."
'Wiped out'
While the series has moved into the tail-end of the 1950s, the drama is played out to the backdrop of a country still recovering from World War Two, particularly in the Christmas episode.
Jessica Raine, who plays lead character Jenny, says: "I think it is necessary as people tend to forget how long it took to get over the war, especially in the East End, because a lot of it was wiped out. It had such an effect on everyone's lives still."
George adds: "Going into the next series, there are a few reflections of the war still so it still feels like a community and a world repairing itself, which we haven't really covered before. It's always spoken about but the emotional depth of it isn't really explored, but in the new series it is."
Pam Ferris, who plays the no-nonsense Sister Evangelina, agrees the war still had a profound effect long after it ended.
"For those of us naive of us to think the war ended in 1945, it's a lesson for all historians and people who don't know the war - its repercussions go on and fade slowly."
The after-effects of war are also felt in other, more dramatic ways in the Christmas special, as the East End midwives come face-to-face with an unexploded World War Two bomb.
The episode also tackles how the experience of women and birth began to change.
"The fashion surrounding birth has already changed in the series. At first we were still saying things like 'Get into the correct position for birthing', now even men are creeping into the room," says Ferris, who played the matriarch in the early '90s comedy drama Darling Buds of May.
"Of course I can imagine Sister Evangelina is going to fight a heavy rearguard action over that!"
'Absolutely filthy'
Jenny Agutter, probably best known for her role in The Railway Children and who plays Sister Julienne, the sister in charge at Nonnatus House, says: "In the Christmas one you see the change in attitudes towards men coming in.
"When we are filming I'm so fascinated when we talk about childbirth experiences - the men in the crew always want to talk about it more because they are there and present and part of it. What we are still showing is men not being part of this intimate women's world."
And Ferris feels the show has a message the younger generation should take note of.
"I hope the younger fans appreciate how things have moved on for women - that within living memory things were tougher, and to not throw away that liberty and freedom the vanguard of feminism and change have brought them," she says.
Despite its gentle pace, the birthing scenes can be quite realistic.
"We end up absolutely filthy. We use sticky blood that smells like Marmite," George says.
Raine adds: "They use a condom filled with blood so whenever you see a gush of water coming out of the woman you have a real midwife standing above with a condom and she just releases it, so there are a lot of condoms lying around the set!"
Miranda-factor
Call the Midwife often has that feel-good Sunday evening tone to it, drawing in mums and dads, along with grans and granddads.
But George insists they have a lot of younger fans.
"It's usually 14-year-old girls that come up to us. I think the Miranda [Hart] fan base has spilled over into Call the Midwife."
And like ITV's hugely successful period drama Downton Abbey, Call the Midwife is hugely popular in the US.
"The last time we were in New York we had a Q&A with lots of fans of the show who were just crazy midwife fans. We felt like One Direction," says George.
The cast know they will all be watching on Christmas Day, as their extended families will insist on it.
"This is the first show I've been in [that] my husband has told me not to tell him what happens," says Ferris.
Call The Midwife is on Christmas Day at 18:15 GMT.