BBC Hidden Kingdoms to explain 'constructed storytelling'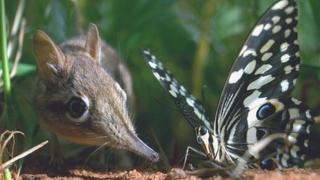 The BBC has included a making-of segment in its new nature documentary Hidden Kingdoms, explaining to viewers how some scenes have been re-enacted.
It follows recent criticism by the BBC Trust of a sequence in the BBC's Great Bear Stakeout which implied an expert was present when he was not.
Executive producer Mike Gunton said the new series was "an interpretation of the world these animals live in".
"We're absolutely being honest about that," he told the Guardian.
Hidden Kingdoms, a three-part series to be broadcast on BBC One early next year, exposes "the action-packed lives of the planet's smaller animals".
"This is a different approach to a traditional wildlife series," said the BBC.
"Based entirely on real behaviour, it employs a unique range of filming techniques and constructed storytelling to recreate these animals' own distinctive perspectives and to illustrate the dynamism of their lives."
'Rattlesnake'
The series, which has taken to two years to complete, deploys blue screen technology and ultra high-screen cameras to track the "remarkable abilities and strategies of the tiniest creatures".
Narrated by Stephen Fry, it includes a scene with a mouse leaping to escape the jaws of a rattlesnake.
Mr Gunton has explained the sequence was created by filming separate footage of the rattlesnakes, lunging at an object deliberately placed above the camera, and marrying them with footage of the mouse.
The documentary will make clear that some scenes have been dramatised and will be accompanied by a programme about how the show was made.
"Audiences do understand that these are films," said Mr Gunton. "You don't turn up, press a button, film for 50 minutes then turn off. They understand editing happens, compression of time and highlights."
A BBC investigation into The Great Bear Stakeout found there had been "serious breaches" of editorial guidelines that should ensure accuracy and not "distort known facts".
BBC managers responded to the investigation by sending staff from the Natural History Unit on bespoke training courses and setting up regular review boards to discuss editorial concerns.