Episodes renewed for fourth season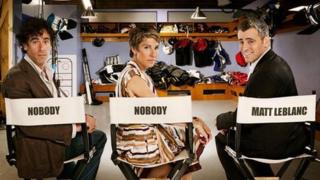 LA-based comedy Episodes, starring Matt LeBlanc as a fictional version of himself alongside British stars Stephen Mangan and Tamsin Greig, has been commissioned for a fourth series.
Filming of nine new episodes will start in 2014, as a co-production between the BBC and US TV company Showtime, according to Hollywood Reporter.
The third series will air next year.
Mangan and Greig play the writers of a Bafta-winning British comedy remade for a US audience with LeBlanc as the star.
Sean and Beverly Lincoln struggle to cope with life in Hollywood and the way their show has been corrupted beyond recognition, as Beverley's brief fling with Matt threatens their relationship.
Series three, which kicks off on US TV on 12 January and will be shown on BBC Two here, will see the English couple back together as LeBlanc's career and ego continue to suffer.
Friends writer David Crane co-writes and created the show with Jeffrey Klarik who worked on Mad About You.
They are both executive producers on the show along with Jimmy Mulville from the Hat Trick production company.
LeBlanc has said he was amused by the reaction of TV bosses after the series went out in the US.
"The industry in LA has really embraced the show. It's funny to hear certain people say 'I know who that character is based on, it's so and so', and I know it's really based on them," said LeBlanc.
"The show isn't just about the Hollywood TV system, it's about three people and the intricacies of relationships."
The actor, who shot to fame playing Joey in the much-loved series Friends, has so far been Golden Globe and Emmy Award-nominated for playing himself in the show.
"People ask which Matt is the real me, but the writers will take a seed from my real life and grow it into an idea," said LeBlanc.
"I don't mind if people think Matt LeBlanc on screen is the real me because it means we have done a great job of creating a believable character."