Man Booker Prize announces 2014 judging panel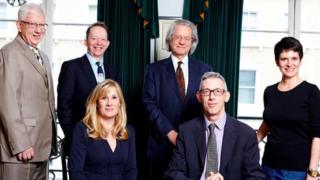 The judging panel for 2014's Man Booker Prize will be chaired by philosopher and writer AC Grayling, with an extra judge added to cope with new rules.
For the first time, the prize has been opened to writers from the United States, with any novel originally written in English and published in the UK now eligible to enter.
Grayling said 2014 would be a "highly significant year" for the prize.
The panel includes American literature professor, Sarah Churchwell.
"The Man Booker prize has become an even bigger entity this year, with all fiction in English published worldwide between October 2013 and October 2014 now joining the competition," said Grayling.
Until the change was announced in September, the £50,000 prize had been largely restricted to the Commonwealth, Ireland or Zimbabwe, and so excluded American writers.
Organisers said it would now "recognise, celebrate and embrace" all authors writing in English "whether from Chicago, Sheffield or Shanghai".
Grayling said the new-look judging panel faced an "exciting" challenge, adding: "We welcome that challenge, and are now launching ourselves into it with relish."
He said he was "delighted" with the "outstanding group of people", including US born Churchwell, who has written books on Marilyn Monroe and F Scott Fitzgerald and currently teaches American literature at the University of East Anglia.
Shakespearean scholar and Oxford professor Jonathan Bate; neuroscientist and cultural commentator Dr Daniel Glaser and Dr Alastair Niven, who is the former director of literature at the British Council and the Arts Council are also on the panel, which has been increased in size to six.
Fellow judge, writer and former literary editor of The Times, Erica Wagner, is also American-born but is a long-time resident of the UK. She has judged the prize once before, as have Niven and Grayling.
This year's Man Booker Prize was won by The Luminaries author Eleanor Catton from New Zealand who, at 28, is the youngest author to ever win the prize.
Following her win in October she said she was in favour of the move to include US writers.
"I think it's a really great thing that finally we've got a prize that is an English-language prize that doesn't make a distinction towards writers who are writing from a particular country," said Catton.
"If you're writing in the English language, you're considered alongside everybody else."
However, the move has attracted a mixed response from other writers including former winner and judge AS Byatt, who told the BBC in September she was "very strongly against" opening up the prize as it would "make judging impossible" because the panel would have too many books to read.
However John Banville, who took the prize in 2005 for The Sea, thought it was an "excellent idea".
He added: "It is silly that it is not open to everyone - but God help the rest of us, because American fiction is very strong indeed."
Julian Barnes won in 2011 for his novel A Sense of an Ending and told BBC Radio 3 he was "surprised" by the changes and thought it would be harder for the prize to showcase new talent.
The 2014 Man Booker Prize long-list will be announced in July next year and will be whittled down to six in September, with the winner announced a month later.