Weinsteins sue Warner over Hobbit film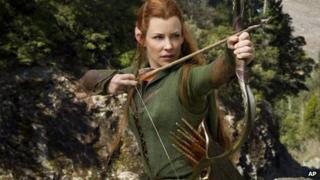 Bob and Harvey Weinstein are suing Warner Bros over its decision to divide The Hobbit into three films, which will mean they receive no payment from the second and third instalments.
Miramax, founded by the brothers, sold its rights to The Hobbit to New Line, part of the Warner group, in 1998.
New Line agreed to make payments for the "first motion picture" only.
The Weinsteins claim the studio adapted the book into three films "solely to deprive plaintiffs" of agreed revenue.
"This case is about greed and ingratitude," said the Weinsteins and Miramax, in a complaint filed on Tuesday in New York State Supreme Court.
'Blunder'
The film producers are suing Time Warner Inc for at least $75m (£45.7m), alleging Warner Bros' decision to create a trilogy of films from JRR Tolkien's standalone novel was a pretext to deprive them of 5% of the gross receipts from the last two films.
But a spokesman for Warner Bros accused the Weinsteins of "one of the great blunders in movie history".
"Fifteen years ago Miramax, run by the Weinstein brothers, sold its rights in The Hobbit to New Line. No amount of trying to rewrite history can change that fact," said Paul McGuire.
"They agreed to be paid only on the first motion picture based on The Hobbit. And that's all they're owed."
The second instalment of The Hobbit - The Desolation of Smaug, directed by Lord of the Rings director Peter Jackson, is due to be released worldwide on Friday.
Early reviews are promising. "Jackson gets the drama in gear here from the outset with a sense of storytelling that possesses palpable energy and purpose," wrote Todd McCarthy of the Hollywood Reporter, adding it was a clear "improvement" on the first instalment, which received a lukewarm response from critics.
"The Desolation of Smaug is a cheerfully entertaining and exhilarating adventure tale, a supercharged Saturday morning picture," wrote Peter Bradshaw of The Guardian.
"It never sagged once in its mighty two hour 40 minutes running time and the high-frame-rate projection for this film somehow looks richer and denser than it did the last time round," he wrote.
Time magazine's Richard Corliss hailed the new film as "livelier, ruder and less slavishly faithful to its source" than its predecessor.
"Smaug is different: a really good movie, superior to the first in that it brings its characters to rambunctious life..."
But The Telegraph's Robbie Collin countered: "The tone is 100% Jackson - a kind of thundering gloominess, cut with the occasional glint of Discworld mischief."
"Maybe this really is what a lot of people want to see from a film version of The Hobbit, but let's at least accept that Tolkien would probably not have been among them."
The first film, The Hobbit: An Unexpected Journey, was released in 2012 and grossed more than $1bn (£609m).